Photo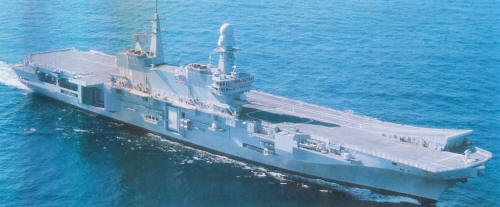 Cavour 2008
Ships
| Name | No | Yard No | Builder | Laid down | Launched | Comp | Fate |
| --- | --- | --- | --- | --- | --- | --- | --- |
| Cavour | C550 |   | Fincantieri, Riva Trigoso & Muggiano | 17.7.2001 | 20.7.2004 | 10.6.2009 | in service (2019) |
Technical data
| | |
| --- | --- |
| Displacement standard, t | 22300 |
| Displacement full, t | 27900 |
| Length, m | 235.6 wl 244.0 oa |
| Breadth, m | 29.5 wl 40.3 fd |
| Draught, m | 7.40 mean 8.70 max |
| No of shafts | 2 |
| Machinery | 4 General Electric-FiatAvio LM2500 gas turbines |
| Power, h. p. | 120000 |
| Max speed, kts | 28 |
| Fuel, t | gas turbine oil |
| Endurance, nm(kts) | 7000(16) |
| Armament | 2 x 16 Sylver A43 SAM (32 Aster-15), 3 x 1 - 25/87 KBA25/80, 24 aircraft (AV-8B+ Harrier attackers, Merlin, NH90 helicopters) |
| Military load | 4 LCVP, 350 troops, 24 tanks |
| Electronic equipment | SPY-790 EMPAR, SPS-798, SPS-791, SPN-753, SPN-720, SPN-41A, 2x NA-25XP radars, SASS e/o IR system, 2x GEM e/o directors, SNA-2000 sonar, JASS, JANEWS ECM suites, 2x SCLAR-H decoy RL, 2x SLAT anti-torpedo systems, SEIC CCS |
| Complement | 796 + 145 flag staff |
Air group
| Year | VSTOL attackers | Helicopters |
| --- | --- | --- |
| 2010 | 8 AV-8B Harrier | 12 AW101 ASW Merlin, AW101 AEW Merlin |
| 2016 | 8 AV-8B Harrier | 12 AW101 ASW Merlin, NH-90 NFH, Bell 212 ASW, AW101 AEW Merlin |
Standard scale images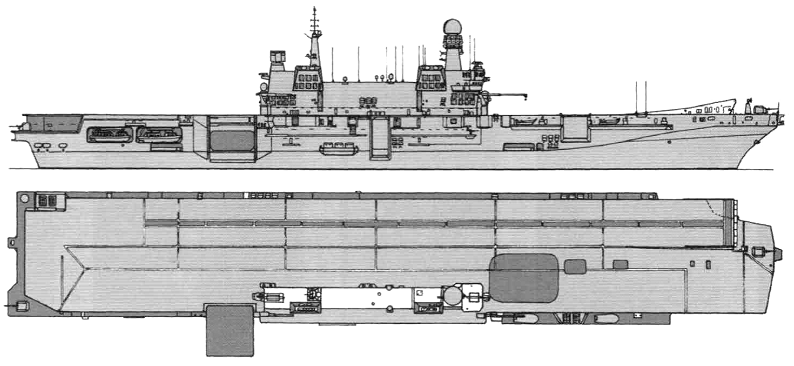 Cavour 2015
Graphics
Aircraft facilities
(fd - 5,900m², ha - 2,818m² / 20,290m³): Flight deck: 232.6(220.0 by ski-jump)x34.5m. Hangar: 134.2x21.0x7.20m. Two 30t elevators, 21.6x14.0m centerline and 15.0x14.0 deck-edge. There is 12°-inclined ski-jump.
Project history
Initial design funding was provided in the 1996 budget; construction approved in 1998, with provisional order placed in November 2000. Initially referred to as the UMPA (Unita Maggiore Per Operazione Anfibe) but officially conceded to be an aircraft carrier late in 1998 and subsequently called the NUM (Nuova Unita Maggiore). Largest warship built in Italy since World War II. The vessel was previously known unofficially as the Andrea Doria. Considered a multirole ship employable as an amphibious warfare asset, vehicle ferry, disaster-relief ship, strike carrier, or sea-control ship. Fabrication began in June 2001, and the ship ran trials beginning in 2006.
There are six deck spots for EH.101 or NH-90 helicopters. The 2,500m² vehicle garage/hangar is 134.2 m long, 21.0 m wide, and 6.0 m high (with an 11-m-high area for maintenance); it holds 12 EH.101 helicopters or eight AV-8B or U.S. Joint Strike Fighter (JSF) aircraft and can also be used to accommodate vehicles. There are two 15t munition elevators. The planned torpedo tubes were eliminated in favor of the navigation aid and mine-avoidance sonar.
Modernizations
2012: + 2 x 1 - 76/62 OTO-Melara Compact SR Strale, 2x SPG-76 radars
Naval service
No significant events.