Photo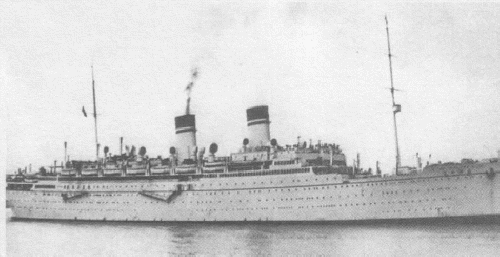 Roma
Ships
| Name | No | Yard No | Builder | Laid down | Launched | Comp | Fate |
| --- | --- | --- | --- | --- | --- | --- | --- |
| Aquila (ex-Roma) |   |   | Ansaldo, Genoa | 30.11.1924 | 26.2.1926 | 9.1926 // --- | conversion incomplete |
Technical data
| | |
| --- | --- |
| Displacement standard, t | 23130 |
| Displacement full, t | 28350 |
| Length, m | 207.4 pp 232.5 max |
| Breadth, m | 29.4 wl 30.1 fd |
| Draught, m | 7.31 mean |
| No of shafts | 4 |
| Machinery | 4 sets Beluzzo geared steam turbines, 8 Thornycroft boilers |
| Power, h. p. | 151000 |
| Max speed, kts | 29.5 |
| Fuel, t | oil 3600 |
| Endurance, nm(kts) | 5500(18) |
| Armour, mm | belt: 600 (concrete), magazines: 80 - 60, steering gear: 30 |
| Armament | 8 x 1 - 135/45 Ansaldo 1938, 12 x 1 - 65/64 Ansaldo-Terni 1939, 22 x 6 - 20/65 Breda 1941, 2 catapults, 51 aircraft (Re.2001) |
| Electronic equipment | EC-3/ter radar |
| Complement | 1408 |
Air group
| Year | 1943 (planned) |
| --- | --- |
| fighters | 51 Re.2001 or 66 Re.2001G |
Standard scale images

Aquila
Graphics
Aircraft facilities
(fd - 5,470m², ha - 2,880m² / ~ 15,800m³): Flight deck: 216.2x25.3m. Hangar: 160.0x18.0m. Two elevators, each (15.2x14.3m, 6.5t). There were 2 catapults of K-252 type. Aircraft fuel stowage: 327000l.
Project history
Former passenger liner Roma (32583BRT). Still in the mid-thirties this ship was planned to convert to seaplane carrier, capable to launch, besides seaplanes, also deck planes landing on the coastal airfields. For some reasons the project remained non-realised, and they have returned to idea of creation of aircraft carrier only after air raid to Taranto 11.11.1940. In January, 1941 working out of the design of an aircraft carrier on the basis of the liner hull was begun.

Conversion of Roma, renamed Aquila in February, 1942, had cardinal character. The ship hull has been lengthened, equipped by bulges and clipper bow. For stability and underwater protection improvement internal part of the bulges adjoining the hull, was filled by concrete. Inside the hull was thoroughly re-planned, receiving a number of longitudinal bulkheads. Machinery was completely redesigned, having borrowed turbines and boilers from incomplete light cruisers Cornelio Silla and Paolo Emilio. "Pseudo-chess" machinery arrangement has been applied to damage tolerance raise: in each compartment on one side from centre line one turbine set was mounted, and on another two boilers were.

Above an upper deck the former liner was completely rebuilt. Newly designed long superstructure, in which the hangar was positioned (160x18m), formed the basis for a flight deck (216.2x25.3m). From a hangar planes were lifted by two elevators. All special aviation equipment (catapults, arresting gears and elevators) had German origin.

Aquila in plans of the Italian command should play the role of "air defence umbrella" of battle forces in the high sea, therefore fighters should become her main armament. That at the moment of design drawing up Italy had not deck planes, as a provisional measure basing of Re.2001 fighter-bombers with non-folding wings was provided. Thus in a hangar there were hold only 26 aircrafts, 15 more it was supposed to carry in the same place, having hanged under a deckhead. 10 more fighters it was planed to carry directly on a flight deck. In case of adoption of developed variant Re.2001G with folding wings the air group should be increased to 66 aircrafts, and all of them could be in a hangar.

Artillery consisted of 135mm single-purpose guns, removed from incomplete cruisers of Capitani Romani class.

Conversion works were started in June, 1941. By September, 1943 availability of the ship made 80%. She was captured by German troops at Genoa. Aquila was damaged by Allied aircraft 16.6.1944, again seriously damaged by Chariots human torpedoes (Italian crewed) 19.4.1945 and scuttled by Germans. She was raised in 1949 and sold for scrap in 1951.
Ship protection
Inner compartments of new built bulges were filled by concrete (600mm layer). Magazines and steering gear had box-shaped protection.