Photo

Vittorio Veneto 1973
Ships
| Name | No | Yard No | Builder | Laid down | Launched | Comp | Fate |
| --- | --- | --- | --- | --- | --- | --- | --- |
| Vittorio Veneto | C550 |   | Navalmeccanica, Castellammare di Stabia | 10.6.1965 | 5.2.1967 | 12.7.1969 | stricken 6.2006 |
Technical data
| | |
| --- | --- |
| Displacement standard, t | 7500 |
| Displacement full, t | 8850 |
| Length, m | 170.6 pp 179.6 oa |
| Breadth, m | 19.4 |
| Draught, m | 6.00 |
| No of shafts | 2 |
| Machinery | 2 sets Tosi geared steam turbines, 4 Foster Wheeler boilers |
| Power, h. p. | 73000 |
| Max speed, kts | 30.5 |
| Fuel, t | oil 1200 |
| Endurance, nm(kts) | 5000(17) |
| Armament | 1 x 2 Terrier/ASROC SAM/ASuM (40 RIM-2, 20 RUR-5), 8 x 1 - 76/62 MMK, 2 x 3 - 324 TT, 9 helicopters (9 AB-212 or 6 SH-3D Sea King) |
| Electronic equipment | SPS-40, SPS-52, SPQ-2B, 2x SPG-55B, 4x RTN-10X radars, SQS-23 sonar, SADOC-1 CCS |
| Complement | 550 |
Standard scale images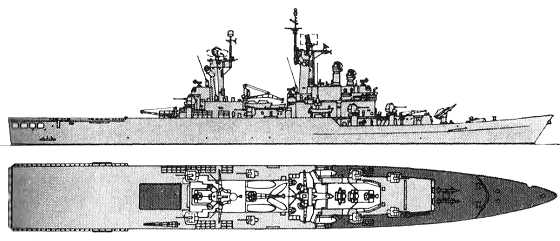 Vittorio Veneto 1975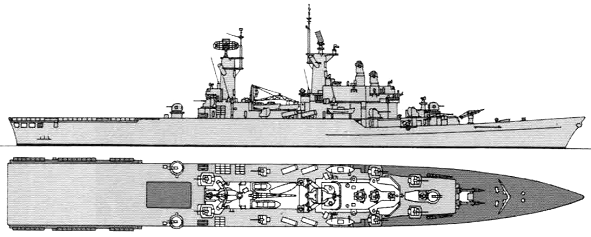 Vittorio Veneto 1990
Graphics
Project history
The larger cruiser was built instead of a third Andrea Doria. On the enlarged hull, the hangar could be worked in below the flight deck aft instead of forward of it. The enlarged flight deck (40.0x18.5m) can accommodate 6 SH-3D or nine AB-212 helicopters, compared to four AB-212 on an Andrea Doria. The deeper hull forward accommodates a third missile drum below the usual pair; the Mod 7 version of the Mk 10 launcher in the ship (Aster) fires both the Terrier anti-aircraft weapon and the ASROC ASW misile (Vittorio Veneto was the only ASROC-firing ship in the Italian Navy).

A projected second ship would have been named Italia. When she dropped out of the long-range programme, a larger missile cruiser/carrier, Trieste, was projected, but she, too, was cancelled. Ultimately the Italian Navy chose to separate the carrier and area air defence roles, building a light carrier.
Modernizations
(1981-1984): - 1 x 2 Terrier/ASROC SAM/ASuM, SPS-40 radar; + 4 x 1 Otomat Mk 2 SSM (4 Otomat Mk 2), 1 x 2 Standard SM-1ER/ASROC SAM/ASuM (40 RIM-67A, 20 RUR-5), 3 x 2 - 40/70 Breda Compact, RAN-3L (SPS-768), 2x RTN-20X (SPG-74) radars
Naval service
No significant events.