Photo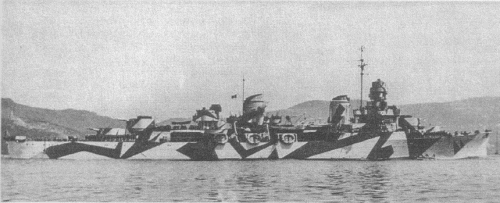 Attilio Regolo
Ships
| Name | No | Yard No | Builder | Laid down | Launched | Comp | Fate |
| --- | --- | --- | --- | --- | --- | --- | --- |
| Attilio Regolo |   |   | OTO, Livorno | 28.9.1939 | 28.8.1940 | 14.5.1942 | to France 8.1948 (Châteaurenault) |
| Caio Mario |   |   | OTO, Livorno | 28.9.1939 | 17.8.1941 | --- | completed as hulk 1.1943 |
| Claudio Druso |   |   | CT, Riva Trigoso | 27.9.1939 | --- | --- | cancelled 6.1940 |
| Claudio Tiberio |   |   | OTO, Livorno | 28.9.1939 | --- | --- | cancelled 6.1940 |
| Cornelio Silla |   |   | Ansaldo, Genoa | 12.10.1939 | 28.6.1941 | --- | captured by Germany incomplete 9.1943 |
| San Marco (ex-Giulio Germanico) | D563 |   | Cantieri di Castellamare di Stabia | 3.4.1939 | 26.7.1941 | 19.1.1956 | discarded 1971 |
| Ottaviano Augusto |   |   | CNR, Ancona | 23.9.1939 | 28.4.1941 | --- | captured by Germany incomplete 9.1943 |
| Paolo Emilio |   |   | Ansaldo, Genoa | 12.10.1939 | --- | --- | cancelled 6.1940 |
| Pompeo Magno, 3.1951- San Giorgio | 1953- D562 |   | CNR, Ancona | 23.9.1939 | 24.8.1941 | 4.6.1943 | TS 1964, discarded 1980 |
| Scipione Africano |   |   | OTO, Livorno | 28.9.1939 | 12.1.1941 | 23.4.1943 | to France 8.1948 (Guichen) |
| Ulpio Traiano |   |   | CNR, Palermo | 28.9.1939 | 30.11.1942 | --- | sunk incomplete 3.1.1943 |
| Vipsanio Agrippa |   |   | CT, Riva Trigoso | 10.1939 | --- | --- | cancelled 6.1940 |
Technical data
Data variant
as completed 1942-1943
San Marco and San Giorgio as recommissioned 1951
Displacement standard, t

3686

3987

Displacement full, t

5334

5600

Length, m

138.7 pp 142.9 oa

138.7 pp 142.2 oa

Breadth, m

14.4

14.4

Draught, m

4.90 mean deep

6.40 mean deep

No of shafts

2

2

Machinery

Regolo, Mario, Druso, Tiberio, Silla, Germanico, Emilio, Africano, Traiano, Agrippa: 2 sets Beluzzo geared steam turbines, 4 Thornycroft boilers

Augusto, Magno: 2 sets Parsons geared steam turbines, 4 Thornycroft boilers

D563: 2 sets Beluzzo geared steam turbines, 4 Thornycroft boilers

D562: 2 sets Parsons geared steam turbines, 4 Thornycroft boilers

Power, h. p.

110000

110000

Max speed, kts

40

38.5

Fuel, t

oil 1387

oil 1400

Endurance, nm(kts)
3000(25)
3000(25)
Armour, mm

turrets: 20, bridge: 15

turrets: 20, bridge: 15

Armament

completed ships: 4 x 2 - 135/45 OTO/Ansaldo 1938, 8 x 1 - 37/54 Breda 1939, 4 x 2 - 20/65 Breda 1935, 2 x 4 - 533 TT (12), 2 DCT, 2 DCR (24), 114 - 136 mines

incomplete ships: 4 x 2 - 135/45 OTO/Ansaldo 1938, 8 x 1 - 37/54 Breda 1939, 4 x 2 - 20/70 Scotti-OM 1941, 2 x 4 - 533 TT (12), 2 DCT, 2 DCR (24), 114 - 136 mines

3 x 2 - 127/38 Mk 38, 3 x 4 - 40/60 Mk 2, 4 x 2 - 40/60 Mk 1, 1 x 3 - 305 Menon ASWRL, 4 DCT, 1 DCR

Electronic equipment
---
SPS-6, SG-6B, Mk 12.22 radars, SQS-11 sonar
Complement

418

494
Standard scale images

San Giorgio 1962

San Giorgio 1978

San Marco 1968
San Giorgio 1968

Scipione Africano 1943

Attilio Regolo 1942

San Giorgio 1955
Graphics
Project history
Light cruisers of Capitani Romani class became the answer to new French leaders of Fantasque and Mogador classes, and at their designing there was a return to the ideas of "super-destroyer" embodied in the first series of scouts of "Condottieri" classes (high speed and strong armament at the minimum protection). Design works over new "ocean scout" have begun in 1937. In the early 1939 the project was ready. In an ultimate kind the ships should have 3400t displacement, eight 135mm guns in four turrets, six newest 65mm AA guns and 2 quadruple TTs. The latters had original enough "two-level" construction (two tubes in the level and two in the upper). Originally planned for a design stage seaplane have refused. Machinery took places en echelon. The designed speed was 40kts, exceeded a similar indicator of French leaders. It is curious, that at the announcement in 1939 about building of the new ships Italians have stated about 44kts speed: the propaganda step directed on demoralisation of the opponent.

On early design stages the hull with a strongly pronounced forecastle was provided, but subsequently it have refused in advantage of flush-decked, with appreciable deck sheer that has ensured some economy of weight without seaworthiness loss. Though at building a number of measures on weight decrease (wide usage of light aluminium alloys and electric welding) has been provided, a building overload was about 300t. Because of unavailability of 65mm AA guns it was necessary to replace them by habitual twin 37mm MGs.

Under the 1937 programme building of 12 ships was provided. The laying was in 1939-1940, but in June, 1940 works on four ships (Claudio Druso, Claudio Tiberio, Paolo Emilio and Vipsanio Agrippa) were stopped, and hulls in 1941-1942 were scrapped on slipways. Building of the remaining ships with a beginning of war was inhibited, and till September, 1943 three only were commissioned. One more, Ulpio Traiano, was sunk at Palermo 3.1.1943 during outfitting afloat by British Chariot human torpedoes. Completion of Caio Mario as a cruiser have refused in 1942, having complete her in January, 1943 as oil hulk. Caio Mario and incomplete Cornelio Silla (84% availability), Ottaviano Augusto ( over 90% availability) and Giulio Germanico (94% availability) were captured by German troops in September, 1943. Caio Mario was scuttled by Germans at Spezia in 1944 (in April, 1945 they blow up the wreck). Ottaviano Augusto was sunk by Allied aircraft at Ancona 1.11.1943. Cornelio Silla was sunk by Allied aircraft at Genoa in July, 1944. Giulio Germanico was scuttled by Germans at Castellamare di Stabia 28.9.1943. She was salvaged by Italians in 1947 and after repair completed. Pompeo Magno was hulked 1.5.1948 with tactical number FV1 and stricken 1.5.1950. She was included to fleet list 1.3.1951 as destroyer San Giorgo and commissioned again 1.7.1955. Ulpio Traiano was sunk by British Chariot human torpedoes. Giulio Germanico was captured by Germans 11.9.1943 and scuttled 28.9.1943. She was raised in 1947 as FV2 and included to fleet list 1.3.1951 as San Marco, commissioned 1.1.1956. San Marco and San Giorgio were re-rated to scouts in 1957 and to destroyer leaders in 1958.
Ship protection
Turrets had 20mm faces, 6mm sides and rears. Bridge had 15mm protection.
Modernizations
Summer 1943, Attilio Regolo, Scipione Africano: + EC.3 radar

(1963 - 1965), San Giorgio: all machinery was changed to CODAG (2 Tosi-Metrovick G6 gas turbines + 4 Fiat-Tosi diesels; 15000shp + 16000bhp = 31000hp, 28kts (20kts on diesels alone), 2 shafts), accommodations for 130 cadets were arranged. - 1 x 2 - 127/38, 3 x 4 - 40/60, 4 x 2 - 40/60, 4 DCT, 1 DCR, SG-6B, Mk 12.22 radars; + 3 x 1 - 76/62 MMI, 2 x 3 - 324 TT, SPQ-2, 3x RTN-7X, Mk 25 radars.
Naval service
Attilio Regolo soon in 2 months after commission was damaged by a torpedo from British submarine Unruffled. The fore end on the first 135mm gun was broken off. Repair lasted till the mid-1943. San Giorgio served as TS from 1964 till 1980.