Photo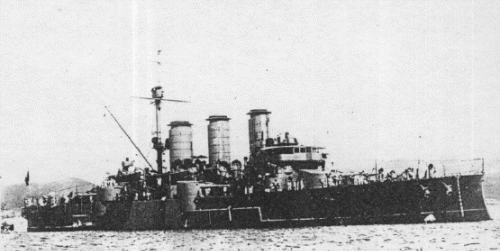 Amalfi 1909  
Ships
| Name | No | Yard No | Builder | Laid down | Launched | Comp | Fate |
| --- | --- | --- | --- | --- | --- | --- | --- |
| Pisa |   |   | Orlando, Livorno | 20.2.1905 | 15.9.1907 | 1.9.1909 | stricken 4.1937 |
| Amalfi |   |   | Odero, Sestri Ponente | 24.7.1905 | 5.5.1908 | 1.9.1909 | sunk 7.7.1915 |
Technical data
Displacement normal, t

9832

Displacement full, t

Pisa: 10600

Amalfi: 10401

Length, m

130.0 pp 140.5 oa

Breadth, m

21.0

Draught, m

Pisa: 7.10

Amalfi: 6.90

No of shafts

2

Machinery

2 VTE, 22 Belleville boilers

Power, h. p.

20000

Max speed, kts

23

Fuel, t

coal 1560 + oil 140

Endurance, nm(kts)
2500(12)
Armour, mm

belt: 200, main gun turrets: 160, secondary gun turrets: 130, deck: 130 - 50, CT: 180

Armament

2 x 2 - 254/45 V1906, 4 x 2 - 190/45 V1906, 16 x 1 - 76/50 V1908, 8 x 1 - 47/50 V1908, 4 x 1 - 6.5/80, 3 - 450 TT sub (1 fwd, 2 beam)

Complement

687
Standard scale images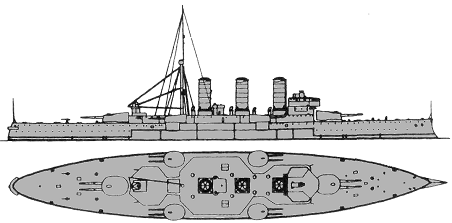 Amalfi 1909
Graphics
Project history
Designed on the basis of Regina Elena class battleships. Originally according to Italian classification they were rated as 2nd class battleships though had strongly pronounced cruiser characteristics. As a whole they were rather successful ships for time, but to beginning of WWI they already considerably become outdated.
Ship protection
Main 200mm belt (full ship length, tapering to 80mm at lower edge), medium belt between end turrets and upper belt between 190mm gun turrets expanded to upper deck, main and upper belts were closed by 150mm bulkheads abreast barbettes. Main belt thickness was 100mm on short parts at ship ends. Main 50mm deck was connected with lower edge of main belt by 130mm slopes. CT had 180mm sides.
Modernizations
1917 - 1918, Pisa: - 2 x 1 - 76/50, 8 x 1 - 47/50; + 6 x 1 - 76/40 A1917

1925, Pisa: + 1 seaplane (M.7)
Naval service
Amalfi was sunk by German submarine UB14 7.7.1915 in Northern Adriatic (formally she carried Austrian flag as U26). Pisa since 1921 served as TS and was reclassified as coastal battleship in July 1921.