Photo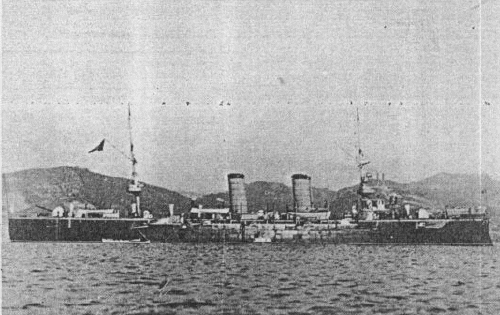 Marco Polo 1898
Ships
| Name | No | Yard No | Builder | Laid down | Launched | Comp | Fate |
| --- | --- | --- | --- | --- | --- | --- | --- |
| Marco Polo, 4.1918- Cortellazzo, 10.1920- Europa, 1.1921- Volta |   |   | R. Cantiere di Castellamare di Stabia | 7.1.1890 | 27.10.1892 | 21.7.1894 | troop transport 4.1918, discarded 1.1922 |
Technical data
| | |
| --- | --- |
| Displacement normal, t | 4511 |
| Displacement full, t | 4820 |
| Length, m | 99.7 pp 106.1 oa |
| Breadth, m | 14.7 |
| Draught, m | 5.88 |
| No of shafts | 2 |
| Machinery | 2 VTE, 4 cylindrical boilers |
| Power, h. p. | 10663 |
| Max speed, kts | 17.8 |
| Fuel, t | coal 600 |
| Endurance, nm(kts) | 4700(10) |
| Armour, mm | belt: 100, gunshields: 50, CT: 50, deck: 25 |
| Armament | 6 x 1 - 152/40 A91, 10 x 1 - 120/40 A91, 2 x 1 - 75/21 Uchatius 29cwt BL No1, 9 x 1 - 57/40 H, 2 x 1 - 37/25 H lungo, 2 x 1 - 11.4/94, 5 - 450 TT (1 bow, 4 beam) |
| Complement | 402 |
Standard scale images

Cortellazzo 1918

Marco Polo 1895
Graphics
Project history
Marco Polo, the first Italian armoured cruiser, was designed by Eng Insp Carlo Vigna, who modified an earlier, improved Etna class cruiser design. She was too lightly armed and protected to be considered successful, and her designed speed of 19kts was never attained.
Ship protection
Main 100mm belt protected most part of the length, its lower edge connected with deck slopes.
Modernizations
1911: - 6 x 1 - 120/40, 3 x 1 - 57/40, 1 x 1 - 11.4/80, 1 - 450 TT (bow)

(1917 - 1918, Arsenale di Venezia): ship was converted to troop transport, new armament consisted of light guns only.
Naval service
In 1917-1918 Marco Polo was converted to landing personnel transport Cortelazzo. After war she served hardly more than 3 years, but for this time she was twice renamed. She was and discarded 1.1921 but immediately reinstated in the ship list. She was stricken again 5.1.1922 and sold for BU.