Photo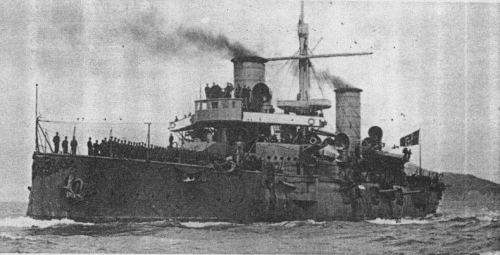 Varese 1904  
Ships
| Name | No | Yard No | Builder | Laid down | Launched | Comp | Fate |
| --- | --- | --- | --- | --- | --- | --- | --- |
| Giuseppe Garibaldi |   |   | Ansaldo, Genova | 1894 | 27.5.1895 | 12.10.1896 // --- | incomplete to Argentina 1896 (Garibaldi) |
| Varese |   |   | Orlando, Livorno | 1895 | 25.5.1896 | 5/1898 // --- | incomplete to Argentina 1896 (San Martin) |
| Varese |   |   | Orlando, Livorno | 6/1896 | 25.7.1897 | 11/1898 // --- | incomplete to Argentina 1896 (General Belgrano) |
| Giuseppe Garibaldi |   |   | Ansaldo, Genova | 1895 | 16.9.1896 | 16.5.1898 // --- | incomplete to Spain 5.1896 (Cristóbal Colón) |
| Giuseppe Garibaldi |   |   | Ansaldo, Genova | 8/1896 | 25.9.1897 | 9/1898 // --- | incomplete to Argentina (Pueyrredon) |
| Varese |   |   | Orlando, Livorno | 21.4.1898 | 6.8.1899 | 5.4.1901 | TS 1920, discarded 1.1923 |
| Giuseppe Garibaldi |   |   | Ansaldo, Genova | 8.6.1898 | 29.6.1899 | 1.1.1901 | sunk 18.7.1915 |
| Francesco Ferruccio |   |   | Arsenale di Venezia | 19.8.1899 | 23.4.1902 | 1.9.1905 | TS 1924, discarded 4.1930 |
Technical data
Displacement normal, t

7234

Displacement full, t

7972

Length, m

104.9 pp 111.8 oa

Breadth, m

18.3

Draught, m

7.10

No of shafts

2

Machinery

Varese: 2 VTE, 24 Belleville boilers

Giuseppe Garibaldi, Franceso Ferruccio: 2 VTE, 24 Niclausse boilers

Power, h. p.

13500

Varese: 14713

Giuseppe Garibaldi: 13655

Max speed, kts

19.5

Varese: 20

Giuseppe Garibaldi: 19.7

Franceso Ferruccio: 19.3

Fuel, t

coal 1200

Endurance, nm(kts)
4400(10)
Armour, mm

belt: 150 - 75, upper belt: 150, barbettes: 150 - 100, turrets: 150, casemates: 150, deck: 38 - 25, CT: 150

Armament

Giuseppe Garibaldi, Varese: 1 x 1 - 254/40 A, 1 x 2 - 203/45, 14 x 1 - 152/40 A99, 10 x 1 - 76/40 A, 6 x 1 - 47/40 H, 2 x 1 - 6.5/115, 4 - 450 TT (beam)

Francesco Ferruccio: 1 x 1 - 254/40 A99, 1 x 2 - 203/45, 14 x 1 - 152/40 A99, 10 x 1 - 76/40 A, 6 x 1 - 47/40 H, 2 x 1 - 6.5/115, 4 - 450 TT (beam)

Complement

510 - 559
Standard scale images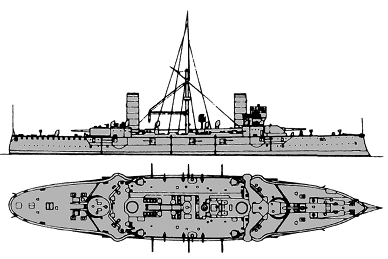 Giuseppe Garibaldi 1901
Graphics
Project history
A very successful class of ships, designed by Eng Insp Edoardo Masdea, which was intermediate between the battleship and the cruiser types, with the ability to fight in the battle fleet, and provided with sufficient speed to avoid action with superior enemy ships if necessary. On a relatively small displacement they were well armed, well protected and fast cruisers. The original Italian ships of this class were bought by other navies - Giuseppe Garibaldi (i), Varese (i), Varese (ii) and Giuseppe Garibaldi (iii) going to Argentina and Giuseppe Garibaldi (ii) to Spain - and the sixth vessel was the first to enter Italian service. Two other vessels of the class were originally transferred to Argentina but were ultimately purchased by Japan, becoming Kasuga and Nisshin.
Ship protection
Main 150mm belt (full ship length, 2.8m high) and upper belt (52x2.0m) expanded to upper deck connecting with 150mm casemate protection, main and upper belts were closed by 150mm bulkheads abreast barbettes. Main belt thickness was 75mm on short parts at ship ends. 25mm deck was connected with lower edge of main belt by 38mm slopes. It has turtleback form and 38-25mm thickness outside barbettes. CT had 150mm sides. All 254, 203 and 152mm guns had 150mm protection.
Modernizations
None.
Naval service Giuseppe
Giuseppe Garibaldi was sunk 18.7.1915 off Cattaro by torpedo from Austrian submarine U4. Remaining two ships after war served as training ships. Varese was converted and employed as a TS from 1920 to 1922; Francesco Ferruccio was converted and employed as a TS for the cadets of the Naval Academy of Leghorn from 1924 till 1929.