NAVYPEDIA Support the project with paypal
Photo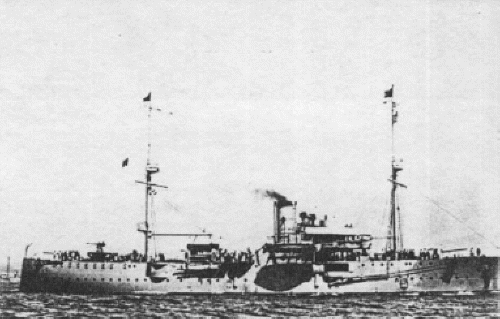 Campania 1922  
Ships
| Name | No | Yard No | Builder | Laid down | Launched | Comp | Fate |
| --- | --- | --- | --- | --- | --- | --- | --- |
| Campania |   |   | Arsenale di Castellamare di Stabia | 9.8.1913 | 23.7.1914 | 18.4.1917 | stricken 3.1937 |
| Basilicata |   |   | Arsenale di Castellamare di Stabia | 9.8.1913 | 23.7.1914 | 1.8.1917 | internal explosion 13.8.1919 |
Technical data
Displacement normal, t

2778

Displacement full, t

3187

Length, m

76.8 pp 83.0 oa

Breadth, m

12.7

Draught, m

5.20

No of shafts

2

Machinery

2 VTE, 4 cylindrical boilers

Power, h. p.

Campania: 5000

Basilicata: 4129

Max speed, kts

Campania: 15.7

Basilicata: 15.5

Fuel, t

coal 500

Endurance, nm(kts)
1850(10)
Armour, mm

deck: 25, CT: 50

Armament

6 x 1 - 152/40 A1899, 2 x 1 - 76/40 A1897, 3 x 1 - 76/40 A1916, 2 x 1 - 47/50 V1908, 2 x 1 - 8.80

Complement

204
Standard scale images
Campania 1918
Graphics
Project history
So-called "colonial" cruisers: weak ships intending for service on colonial stations. Could be used and as training ships (had accommodations for 100 cadets). Project was developed on the basis of out-of-date Calabria. Battle value of these cruisers was insignificant.
Ship protection
Main protection consisted of deck with slopes.
Modernizations
1922, Campania: - 2 x 1 - 152/40

1930s, Campania: - 2 x 1 - 152/40
Naval service
Basilicata was sunk due to explosion of her boiler 13.8.1919 at Tawfik (Suez canal), refloated in September 1920 and discarded next year as non-repairable. Campania was reclassed as gunboat from July 1921 and served as TS from 1932.
© 2007-2022 - navypedia.org