Photo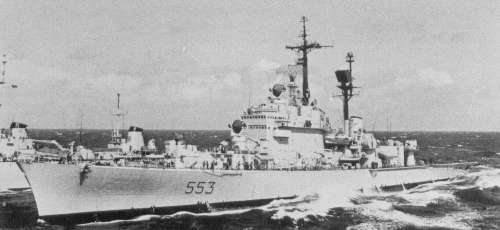 Andrea Doria 1979
Ships
| Name | No | Yard No | Builder | Laid down | Launched | Comp | Fate |
| --- | --- | --- | --- | --- | --- | --- | --- |
| Andrea Doria | C553 |   | CNR, Riva Trigoso | 11.5.1958 | 27.2.1963 | 23.2.1964 | stricken 9.1992 |
| Caio Duilio | C554 |   | Navalmeccanica, Castellammare di Stabia | 16.5.1958 | 22.12.1962 | 30.11.1964 | stricken 7.1991 |
Technical data
Displacement standard, t

5000

Displacement full, t

6500

Length, m

144.0 pp 149.3 oa

Breadth, m

17.3

Draught, m

5.00

No of shafts

2

Machinery

C553: 2 sets CNR geared steam turbines, 4 Foster Wheeler boilers

C554: 2 sets Ansaldo geared steam turbines, 4 Foster Wheeler boilers

Power, h. p.

60000

Max speed, kts

30

Fuel, t

oil 1100

Endurance, nm(kts)
5000(17)
Armament

1 x 2 Terrier SAM (40 RIM-2), 8 x 1 - 76/62 MMK, 2 x 3 - 324 TT, 4 helicopters (AB-212)

Electronic equipment
SPS-12, SPS-39A, SPQ-2, 2x SPG-55, 4x RTN-10X radars, SQS-39 sonar, SADOC CCS
Complement

485
Standard scale images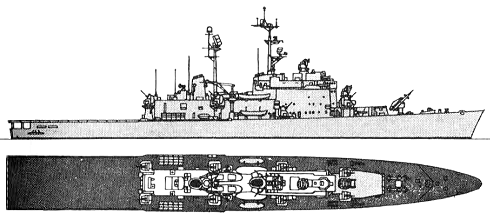 Andrea Doria 1978

Caio Duilio 1990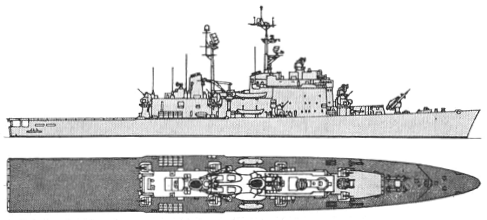 Andrea Doria 1965
Graphics
Project history
Both ships were ordered under the 1957-58 new construction programme. They were designed to carry Terrier SAM and three Sea King ASW helicopters to provide long range AA and ASW protection to task groups and convoys. An enlarged version of the lmpavido class destroyer design was used, with a considerably increased beam to allow a hangar and a 30x16m flight deck to be worked in aft. In practice they proved to be too small to operate Sea Kings, so they carried four smaller ASW helicopters instead. The flight deck was cantilevered out at the extreme stern to provide more operating space.

This class was to have been armed with the SMP 3 76mm/62 gun used in the Albatros class. Due to its failure, the new OTO-Melara weapon was substituted. These guns were adopted because the Italian Navy decided in 1958 that nothing short of a 76mm weapon would be adequate for point defence against aircraft. These were the first Italian warships with automated combat data systems (SADOC, equivalent to the contemporary US NTDS). The official sketch published in 1959 showed a lattice foremast like that of the newly-modernized Garibaldi, with SPS-39 at its top and SPS-6 or SPS-12 on a platform further down; there was no mainmast. In fact they were completed with two pole masts, the foremast carrying SPS-12 and the mainmast SPS-39A. The gun fire control system was new Italian-made NA-9 Orion with RTN-10X radars.

A third unit, to have been named Enrico Dandolo, was deferred; the larger Vittorio Veneto was built instead.
Modernizations
(1976-1978), Andrea Doria: - 1 x 2 Terrier SAM, SPS-12, SPS-39A, 2x SPG-55A radars, SQS-39 sonar; + 1 x 2 Standard SM-1ER SAM (40 RIM-67A), SPS-40, SPS-52, 2x SPG-55C radars, SQS-23F sonar

1980, Andrea Doria: - SPS-52 radar; + RAN-3L (SPS-768) radar

(1979-1980), Caio Duilio: - 1 x 2 Terrier SAM, 2 x 1 - 76/62, SPS-12, 1x RTN-10X, 2x SPG-55A radars; + 1 x 2 Standard SM-1ER SAM (40 RIM-67A), RAN-3L (SPS-768), 2x SPG-55C radars, only 2 helicopters were carried, classrooms for cadets replaced former hangar

1980s, both: + SPR-4, SLQ-D ECM suites, 2 SCLAR decoy launchers
Naval service
Caio Duilio became TS in 1980.