Photo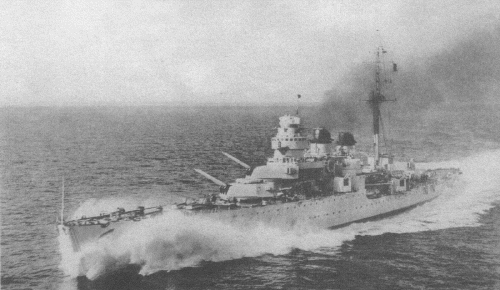 Luigi di Savoia Duca degli Abruzzi pre-war
Ships
| Name | No | Yard No | Builder | Laid down | Launched | Comp | Fate |
| --- | --- | --- | --- | --- | --- | --- | --- |
| Luigi di Savoia Duca degli Abruzzi | 1953- C550 |   | OTO, Muggiano | 28.12.1933 | 21.4.1936 | 1.12.1937 | stricken 4.1961 |
| Giuseppe Garibaldi | 1953- C551 |   | CRDA, Trieste | 12.1933 | 21.4.1936 | 20.12.1937 | stricken 11.1976 |
Technical data
Displacement standard, t

Abruzzi: 9440

Garibaldi: 9050

Displacement full, t

Abruzzi: 11575

Garibaldi: 11117

Length, m

171.8 pp 187.0 oa

Breadth, m

18.9

Draught, m

6.80 mean deep

No of shafts

2

Machinery

2 sets Parsons geared steam turbines, 8 Yarrow boilers

Power, h. p.

100000

Max speed, kts

34

Fuel, t

oil 1700

Endurance, nm(kts)
4125(17)
Armour, mm

belt: 100 + 30, bulkheads: 100 + 30, decks: 40 + 15 - 10, barbettes: 100 - 30, turrets: 135, CT: 140 - 30, communication tube: 30, funnel uptakes: 50 - 20

Armament

2 x 3 - 152/55 Ansaldo 1934, 2 x 2 - 152/55 Ansaldo 1934, 4 x 2 - 100/47 OTO 1928, 4 x 2 - 37/54 Breda 1932, 4 x 2 - 13.2/76, 2 x 3 - 533 TT, 2 catapults, 2 - 4 seaplanes (Cant.25, Ro.43, Ro.44), 2 DCT (12), 120 mines

Complement

640 - 692
Standard scale images

Giuseppe Garibaldi 1963

Giuseppe Garibaldi 1940
Graphics
Project history
In the design of cruisers of the 1932-1933 programme the scheduled tendency to increasing of an armour protection of the Italian light cruisers has received the further development, and for the first time designers decresed a designed speed. At the expense of increase, in comparison with "Condottieri" 4th series, displacement for 1000t and designed speed decrease on 2.5kts it was received, possibly, most successful of the pre-war Italian cruisers, a little yielding, and which in what exceeding foreign analogues.

On new cruisers armour weight reached 2131t. The scheme of protection in general repeating applied earlier, on Garibaldi had a number of basic differences. So, side armour was traditionally fulfilled separated, but this time the external belt had a only 30mm thickness, and internal, inclined at 12°, was much thicker: 100mm. It was connected by the upper edge to an upper edge of an external belt, and being dipped below a water-line, was curved and adjoined with its lower edge. Transverse bulkheads also were fulfilled separated, but had more simple construction from parallel plates, but also in this case the external plate was more thin the internal. Upwards from a belt the side plating had 20mm thickness, and for the first time on Italian cruisers the upper deck was fulfilled of 15mm steel near the side and 10mm closer to centre line. The hull beam increased almost on 1.5m has allowed to compact machinery as it was possible to place the boilers not in a centre line, but two abreast. On Garibaldi the length of machinery compartments, has appeared in one and a half time less, than on predecessors, and it thus, that the arrangement scheme was en echelon. Reduction of machinery length, in turn, has allowed to place more rational armament and to moderate length of the belt as main gun turrets managed to be removed from the ship ends notably lighter. Main gun number was been increased to 10 and, that is important, in new turrets, at last, it was possible to be saved of vicious practice of placing of the guns in common gun slide. Guns were new (M1936).

Because of re-planning in machinery, it does not remain places for installation of an aviation catapult in a centre line amidships, therefore it was necessary to install two aside abreast the aft funnel. As well as on 3rd abd 4th "Condottieri" series, they had the limited angle of turn. The hangar was not provided.

Under the 1939-1940 programme the building of two very close to 5th "Condottieri" series cruisers (Constanzo Ciano and Venezia) was provided, however in June, 1940 they were excluded from the programme. High machinery power and transition to new 90mm AA guns and a superstructure of the hardly changed form should become the basic difference of these cruisers.
Ship protection
Outer 30mm belt extended up to main deck between center of "A" and fore side "X" barbettes, 100mm inner belt was inclined at 12° outside and connected by own top side with top side of outer belt, curving below waterline and connecting by own lower edge with lower edge of outer belt. The belt was closed by 30mm outer and 100mm inner bulkheads. All side above the main belt was 20mm thick. Flat 40mm main deck connected with upper edge of main belts, upper deck was 15mm (10mm near centerline). Barbettes had 100mm protection above weather decks, 90mm between weather and main decks and 50-30mm below main deck. CT had 140mm sides, 70mm roof and 25mm deck, rest of tower superstructure had 50-40mm protection.
Modernizations
1943, both: - 4 x 2 - 13.2/76; + 4 x 2 - 20/65 Breda 1935, 2 x 1 - 20/65 Breda 1940

Summer 1943, Luigi di Savoia Duca degli Abruzzi: + FuMo 39G radar

1944, both: - 2 x 3 - 533 TT, catapults and seaplanes; + 2 x 1 - 100/47 OTO 1937

1944 - 1945, Giuseppe Garibaldi: + type 286 radar

1944 - 1945, Luigi di Savoia Duca degli Abruzzi: - FuMo 39G radar; + type 286, type 281 radars

(1949 - 1951) Giuseppe Garibaldi: two boilers were removed (85000shp, 29kts); - 2 x 2 - 100/47, 2 x 1 - 100/47, 4 x 2 - 37/54, 4 x 2 - 20/65, 2 x 1 - 20/65; + 4 x 4 - 40/60 Mk 2, 4 x 2 - 40/60 Mk 1, SO-8, SK-2 radars

(1951 - 1953), Luigi di Savoia Duca degli Abruzzi: two boilers were removed (85000shp, 29kts); - 2 x 2 - 100/47, 2 x 1 - 100/47, 4 x 2 - 37/54, 4 x 2 - 20/65, 2 x 1 - 20/65; + 4 x 4 - 40/60 Mk 2, 4 x 2 - 40/60 Mk 1, SC, SK-2 radars

1955, Luigi di Savoia Duca degli Abruzzi: - SK-2, type 281 radars; + SPS-6C radar, height-finding radar, fire-control radar

(1957 - 1961), Giuseppe Garibaldi: new armament consisted of 4 Polaris A-1 SLBM (never really carried), 1 x 2 Terrier SAM launcher (72), 2 x 2 - 135/45 OTO/Ansaldo 1938, 8 x 1 - 76/62 MMI, SPS-39, SPS-6, ARGO-5000, 2x SPG-55 radars.
Naval service
Giuseppe Garibaldi 27.7.1941 received torpedo hit from British submarine Upholder, hard damaged and was 4 months under repair.