NAVYPEDIA Support the project with paypal
Photo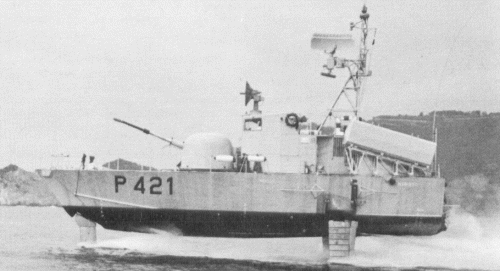 Nibbio 1980
Ships
Names
Builders
Completed
Losses
Transfers
Discarding

P420 Sparviero

P421 Nibbio

P422 Falcone

P423 Astore

P424 Grifone

P425 Gheppio

P426 Condor

Alinavi, La Spezia: P420

Fincantieri, Muggiano: P421-426

7/1974: P420

3/1980: P421

3/1982: P422

2/1983: P423, 424

9/1983: P425

4/1984: P426

none

none

9/1991: P420

2/1998: P421

8/2005: P422-426
Technical data
Displacement standard, t
 
Displacement full, t

63

Length, m

23.0 hull 24.6 hullborne

Breadth, m

12.1 foils 7.00 hull

Draught, m

1.50 hull 4.40 foils extended

No of shafts

1 + 1 waterjet

Machinery

CODOG: 1 General Motors 6V-53N diesel (1 shaft) / 1 Rolls-Royce Proteus 15M560 gas turbine (1 waterjet)

Power, h. p.

165 / 5000

Max speed, kts

40

Fuel, t

diesel / gas turbine oil

Endurance, nm(kts)
1200(8) or 400(40)
Armament

P420: 2 x 1 Otomat SSM (2 Otomat), 1 x 1 - 76/62 OTO-Melara Compact

P421-426: 2 x 1 Teseo Mk 2 SSM (2 Otomat Mk 2), 1 x 1 - 76/62 OTO-Melara Compact

Electronic equipment
SPQ-701, RTN-10X radars
Complement

10
Standard scale images

Falcone 1990
Graphics
Project history
Development of conventional Italian patrol boats ceased in 1964 when a consortium of the Italian Government's research branch, Carlo Rodriguez, which built commercial hydrofoils - and the American firm of Boeing, which was building its first jetfoil, came into existence. This consortium, Alinave, designed a small hydrofoil for the Italian Navy based on Boeing's Tucumcari. The prototype, Sparviero (P 420), was built during 1971 -74, but no more were built until 1977. Six more were completed during 1980-83. Spaniew has a single-cell launcher whereas the later boats use the Teseo system.

They utilized the Boeing jetfoil system, with one foil forward and two aft. Foilborne power came from a Proteus gas turbine driving a waterjet, while hullborne power consisted of a GM diesel. The boats were built entirely of aluminum. A much larger NATO hydrofoil based on this foil system proved too expensive; it was adopted only by the US Navy (as the PHM).
Modernizations
None.
Naval service
No significant events.
© 2007-2022 - navypedia.org