Photo
Andrea Doria 1899
Ships
| Name | No | Yard No | Builder | Laid down | Launched | Comp | Fate |
| --- | --- | --- | --- | --- | --- | --- | --- |
| Ruggiero di Lauria |   |   | R. Cantiere di Castellamare di Stabia | 3.8.1881 | 9.8.1884 | 1.2.1888 | stricken 11.1909 |
| Francesco Morosini |   |   | R. Arsenale di Venezia | 4.12.1881 | 30.7.1885 | 21.8.1889 | sunk as target 15.9.1909 |
| Andrea Doria, 2.1915- GR104 |   |   | R. Arsenale di La Spezia | 7.1.1882 | 21.11.1885 | 16.5.1891 | stricken 5.1911, floating battery 4.1915-11/1918 |
Technical data
Displacement normal, t

9886

Displacement full, t

Ruggiero di Lauria: 10997

Francesco Morosini: 11145

Andrea Doria: 11027

Length, m

100.0 pp 105.9 oa

Breadth, m

19.8

Draught, m

Ruggiero di Lauria: 8.29

Francesco Morosini: 8.37

Andrea Doria: 8.32

No of shafts

2

Machinery

Ruggiero di Lauria, Andrea Doria: 2 VC, 8 cylindrical boilers

Francesco Morosini: 2 VC, 8 oval boilers

Power, h. p.

Ruggiero di Lauria: 10591

Francesco Morosini: 10000

Andrea Doria: 10500

Max speed, kts

Ruggiero di Lauria: 17

Francesco Morosini: 16

Andrea Doria: 16.1

Fuel, t

coal 850

Endurance, nm(kts)
2800(10)
Armour, mm

steel; side: 450, citadel: 360, barbettes: 360, CT: 250, deck: 75

Armament

2 x 2 - 432/27 A, 2 x 1 - 152/32 B, 4 x 1 - 120/32 B(c.o.), 2 - 350 TT (beam)

Complement

507
Standard scale images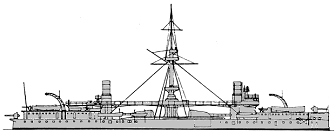 Ruggiero di Lauria 1905
Graphics
Project history
This class was a considerable compromise, because the minister of the Navy, Vice-Admiral Ferdinando Acton, opposed the building of large vessels such as the Italia class. He favoured ships of not more than 8000-10000t with a maximum speed of 15kts, and was critical of huge guns - on 8 March 1880, a large muzzle-loader aboard Duilio blew up, having been double-loaded, and this incident roused public opinion against such large ships and guns. Acton gave the job of designing the new ships to Eng Insp Giuseppe Micheli. This naval architect, after having produced some original projects, elected to design an improved Duilio, and, indeed, the Ruggiero di Lauria class was essentially a repetition of the Duilios. Some improvements were incorporated - a high forecastle, breech-loading 432mm guns in barbettes, a better quality and distribution of armour - but in fact the design was already obsolete when the ships entered service.

Authorised under the 1880 Naval programme, the three ships were unremarkable and had rather short lives.
Ship protection
Ships were protected by 450mm side armour and 75mm deck.
Modernizations
None.
Naval service
After being struck off, Ruggiero di Lauria was used as a floating oil depot at La Spezia until 1943, her hulk, sunk in shallow waters by bombing, being finally broken up in 1946-7. Andrea Doria was used as a floating battery GR104 and served at Brindisi until after World War I, when she became an oil depot until broken up in 1929.