Photo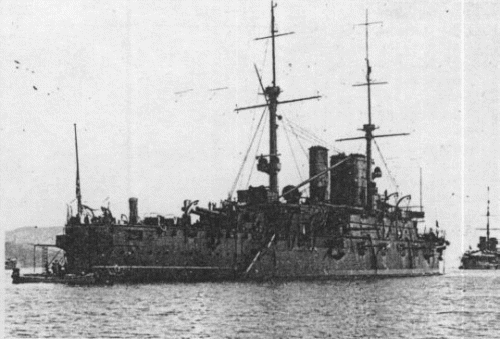 Regina Margherita 1908
Ships
| Name | No | Yard No | Builder | Laid down | Launched | Comp | Fate |
| --- | --- | --- | --- | --- | --- | --- | --- |
| Regina Margherita |   |   | R. Arsenale di La Spezia | 20.11.1898 | 30.5.1901 | 14.4.1904 | sunk 11.12.1916 |
| Benedetto Brin |   |   | R. Cantiere di Castellamare di Stabia | 30.1.1899 | 7.11.1901 | 1.9.1905 | internal explosion 27.9.1915 |
Technical data
Displacement normal, t

13215

Displacement full, t

Regina Margherita: 14093

Bendetto Brin: 14737

Length, m

130.0 pp 138.7 oa

Breadth, m

23.8

Draught, m

Regina Margherita: 8.81

Benedetto Brin: 9.00

No of shafts

2

Machinery

Regina Margherita: 2 VTE, 28 Niclausse boilers

Benedetto Brin: 2 VTE, 28 Belleville boilers

Power, h. p.

Regina Margherita: 21790

Benedetto Brin: 20475

Max speed, kts

Regina Margherita: 20.3

Benedetto Brin: 20

Fuel, t

coal 2000

Endurance, nm(kts)
10000(10)
Armour, mm

Terni Harvey; side: 150, deck: 80, CT: 150, turrets: 200, battery: 150

Armament

2 x 2 - 305/40 M, 4 x 1 - 203/45, 12 x 1 - 152/40 A99, 20 x 1 - 76/40 A, 2 x 1 - 47/40 H, 2 x 1 - 37/25 H lungo, 2 x 1 -11.4/94, 4 - 450 TT (sub, beam)

Complement

812 - 900
Standard scale images

Benedetto Brin 1905
Graphics
Project history
Designed under the 1898 Naval programme by Eng Admiral Benedetto Brin, then minister of the Navy, who required a modern, well-armed and fast ship even if this meant some sacrifice in respect of protection (a feature too often neglected in Italian warships). The armament originally comprised 2 305mm and 12 203mm guns (identical to that of the four Regina Elenas laid down in 1901-03), but after Brin's death the design was modified by Eng Admiral Ruggero Alfredo Micheli. As with other large vessels of the Italian fleet, these ships emerged as hybrids between the powerful but slow battleship and the fast cruiser type, and had only moderate protection. Actually, the two Regina Margheritas, though neither as large as the major contemporary foreign battleships nor as last as cruisers, proved to be good warships, and very seaworthy. One peculiar aspect was the 'double-symmetrical' bridge/conning tower, one forward the other aft. While the Morosini and the two Saint Bons could burn not only coal but also oil, the two Regina Margheritas represented a backward step, since they burnt only coal.
Ship protection
Ships were protected by 150mm belt on full ship length and 80mm deck above.
Modernizations
None.
Naval service
Regina Margherita was sunk 11.12.1916 off Valona by two mines laid by the German submarine UC14; Benedetto Brin was lost as a result of Austrian sabotage at Brindisi 27.9.1915.