Photo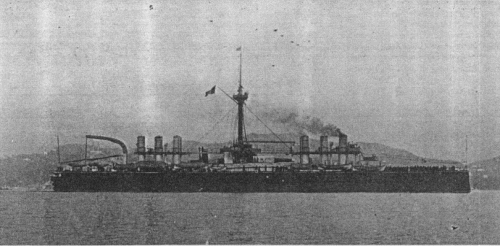 Italia 1897
Ships
| Name | No | Yard No | Builder | Laid down | Launched | Comp | Fate |
| --- | --- | --- | --- | --- | --- | --- | --- |
| Italia (ex-Stella d'Italia) |   |   | R. Cantiere di Castellamare di Stabia | 3.1.1876 | 29.9.1880 | 16.10.1885 | stricken 6.1914, floating battery 6.1915, auxiliary 12.1917 |
| Lepanto |   |   | Orlando, Livorno | 4.11.1876 | 17.3.1883 | 16.8.1887 | auxiliary 5.1912 |
Technical data
Displacement normal, t

Italia: 13678

Lepanto: 13336

Displacement full, t

Italia: 15407

Lepanto: 15649

Length, m

122.0 pp 124.7 oa

Breadth, m

Italia: 22.5

Lepanto: 22.3

Draught, m

Italia: 8.75

Lepanto: 9.39

No of shafts

4

Machinery

4 VC, 8 oval and 16 cylindrical boilers

Power, h. p.

Italia: 11986

Lepanto: 15797

Max speed, kts

Italia: 17.8

Lepanto: 18.4

Fuel, t

coal 3000

Endurance, nm(kts)
5000(10)
Armour, mm

steel; deck: 100, citadel: 480, funnel base: 406, CT: 102

Armament

Italia: 1 x 2 - 432/26 C, 1 x (1 - 432/27 B, 1 - 432/26 C), 7 x 1 - 149/26 C, 4 x 1 - 120/32 B(c.o.), 4 - 350 TT (1 bow, 2 beam, 1 stern)

Lepanto: 2 x 2 - 432/27 B, 8 x 1 - 152/32 B, 4 x 1 - 120/32 B(c.o.), 4 - 350 TT (1 bow, 2 beam, 1 stern)

Military load
10000 men
Complement

669
Standard scale images

Lepanto 1887
Graphics
Project history
Forerunners of the battlecruisers, these two vessels were for several years the largest and fastest warships in the world. Their designer, Insp Eng Benedetto Brin, rejected side armour, the fitting of which would have added an unbearable increase in weight to an already huge vessel; on the grounds that, at that time, the gun was superior to any armour that could be put into a belt, he adopted the pure cellular raft type. The hull of Italia was of iron and steel, and was covered with wood and zinc-sheathed; Lepanto's hull was of steel and was not covered. The 432mm guns in Italia were of two slightly different types: three of them were Model 431C (26cal) but the fourth was Model 431B (27cal). The weight of the 431C was 102.5t, while that of 431B was 103.5t. Both fired a 908kg projectile with a muzzle velocity of 535m/s, Italia originally had six funnels and Lepanto four.

The Italia class were in reality large, fast, strategic cruisers, with the capability of carrying, on board each ship, an entire infantry division (10,000 men).
Ship protection
Ships were protected by 100mm deck only.
Modernizations
1890s, Italia: + 2 x 1 - 76/40 A, 6 x 1 - 57/40 H, 10 x 5 - 37/20 H, 2 x 1 - 11.4/94, 2 - 350 TT (beam)

1890s, Lepanto: + 2 x 1 - 76/40 A, 12 x 1 - 57/40 H, 12 x 5 - 37/20 H

1908, Italia: six funnels were reduced to four, single central mast was replaced by two masts; - 1 x 1 - 149/26, 6 x 1 - 57/40, 8 x 5 - 37/20

1910, Lepanto: - 2 - 350 TT
Naval service
In 1909-10 Italia served as a torpedo TS, in 1912 as a TS for petty officers and later (1914) she became the central ship for the defence of Taranto. On 1.6.14 she was laid up and on 4.6.14 removed from the Navy list. On 20.4.15 she was towed to Brindisi, where she served as floating battery in the outer harbour of that base until 16.12.17. Reinstated in the Navy list on 23.5.15 and recommissioned on 1.6.15 as a 'first class auxiliary', she was moved to La Spezia for conversion to a cereal carrier, armed with 2 120mm guns. She was transferred on 27.7.19 to the State Railwavs, but returned yet again to the Navy on 13.1.1921 and was finally stricken on 16.11.1921. Lepanto served as a TS for gunners from 1902, and in her two last years (1910-12) she was a depot ship at La Spezia, being removed from the list on 26.5.1912. She was, however, reinstated as a 'first class auxiliary' on 13.1.1913 but was stricken in January 1914 and sold for scrap on 27.3.1915.