NAVYPEDIA Support the project with paypal
Photo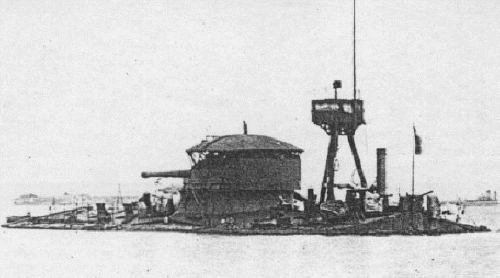 Faà di Bruno
Ships
| Name | No | Yard No | Builder | Laid down | Launched | Comp | Fate |
| --- | --- | --- | --- | --- | --- | --- | --- |
| Faà di Bruno (ex-GA43), 11.1924- GM194 |   |   | R. Arsenale di Venezia | 1915 | 30.1.1916 | 23.7.1917 | stricken 11.1924, floating battery 1940, captured by Germans 9.9.1943 (Biber) |
Technical data
| | |
| --- | --- |
| Displacement normal, t | 2809 |
| Displacement full, t | 2854 |
| Length, m | 55.6 |
| Breadth, m | 27.0 |
| Draught, m | 2.20 |
| No of shafts | 2 |
| Machinery | 2 Thornycroft VTE, 2 Thornycroft boilers |
| Power, h. p. | 465 |
| Max speed, kts | 2.5 |
| Fuel, t | coal |
| Endurance, nm(kts) |   |
| Armour, mm | belt: 2900 concrete cofferdam, deck: 40, barbette: 60, turret: 110 face (70+20+20) |
| Armament | 1 x 2 - 381/40 S1914, 4 x 1 - 76/40 A1916, 2 x 1 - 40/39 V,T1915 |
| Complement | 743 |
Standard scale images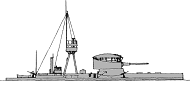 Faà di Bruno 1918
Graphics
Project history
Ship was projected by rear admiral G. Rota specially for support of land forces around Trieste. She represented rectangular pontoon with a raking deck. On perimeter the hull instead of an armoured belt was protected by a layer of cofferdams filled with concrete (2.9m thickness). 381mm guns, made for incomplete dreadnought Christoforo Colombo, had max elevation angle 15° and a horizontal aiming angle 60°. Steam engines have been removed from old torpedo boat (according to some information, their actual power did not exceed 100hp). In comparison with British monitors Faa di Bruno was considerable slower, but had smaller draught that moderated risk of mining.
Ship protection
Hull was protected all around by 2.9-m concrete.
Modernizations
None
Naval service
In November, 1917 ship has got to a storm and to avoid loss ran aground off Ancona. Faà di Bruno was stricken in 1924 but survived inter-war period and in t1940-1943 was used as floating battery GM194 at Genoa.


© 2007-2022 - navypedia.org