Photo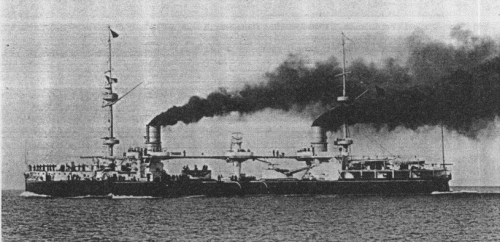 Dandolo 1898
Ships
| Name | No | Yard No | Builder | Laid down | Launched | Comp | Fate |
| --- | --- | --- | --- | --- | --- | --- | --- |
| Duilio |   |   | R. Cantiere di Castellamare di Stabia | 6.1.1873 | 8.5.1876 | 6.1.1880 | stricken 6.1909 |
| Dandolo |   |   | R. Arsenale di La Spezia | 6.1.1873 | 10.7.1878 | 11.4.1882 | stricken 1.1920 |
Technical data
Displacement normal, t

Duilio: 10962

Dandolo: 11025

Displacement full, t

Duilio: 12071

Dandolo: 12037

Length, m

103.5 pp 109.2 oa

Breadth, m

19.7

Draught, m

Duilio: 8.31

Dandolo: 8.36

No of shafts

2

Machinery

2 VC, 8 rectangular boilers

Power, h. p.

Duilio: 7711

Dandolo: 8045

Max speed, kts

Duilio: 15.0

Dandolo: 15.6

Fuel, t

coal 1000

Endurance, nm(kts)
3760(10)
Armour, mm

steel; side: 550 max, deck: 30 - 50, turrets: 430, citadel: 430, transverse frames: 400

Armament

Duilio: 2 x 2 - 450/20 Armstrong 100ton MLR, 3 - 350 TT (1 bow, 2 beam), 1 TB Clio

Dandolo: 2 x 2 - 450/20 Armstrong 100ton MLR, 3 - 350 TT (1 bow, 2 beam)

Complement

420
Standard scale images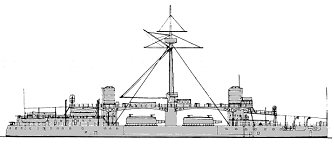 Duilio 1895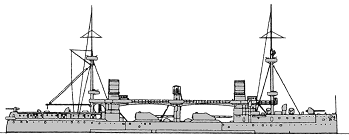 Dandolo 1904
Graphics
Project history
These two vessels were the first battleships in the world rigged only with a military mast and armed with giant guns, and were the first Italian 2-shaft capital ships. They were designed by Director Eng Benedetto Brin. The original plan was for four 35t guns, then for 60t guns, but 100t weapons were actually fitted. Armstrong-built MLs, these fired one 865kg projectile every 15 minutes, with a muzzle velocity of 454-509m/s. Aboard Duilio, at the stern, was a compartment for a small TB (Clio, 261t).
Ship protection
The belt was of Creusot steel plates; the armoured central citadel, redoubt and turrets were NS, the turrets being mounted en echelon close together amidships. There was a cellular raft at the bows and stern between an underwater deck and that next above, subdivided into 83 watertight compartments.
Modernizations
1890, Duilio: + 3 x 1 - 120/40 A

1898, Dandolo: was rebuilt: 10679/11264t, new VC engines, complement was 495, new turrets had 225mm armour; new armament consisted of 2 x 2 - 254/40 A, 7 x 1 - 152/40 A91, 5 x 1 - 120/40 A91, 16 x 1 - 57/43 N, 8 x 5 - 37/20 H, 4 x 1 - 11.4/94, 4 - 450 TT (1 bow, 2 beam, 1 stern)

1900, Duilio: + 2 x 1 - 76/40 A, 8 x 1 - 57/40 H, 4 x 5 - 37/20 H
Naval service
Duilio was disarmed on 27.6.1909, hulked and, renumbered GM40, used as a floating coal and oil tank. Dandolo was rebuilt in 1895/8 to Insp Eng Giacinto Pullino's design. During World War I she served as a local defence ship, first at Brindisi and later at Valona. She was removed from the Navy list on 23.1.1920.