Photo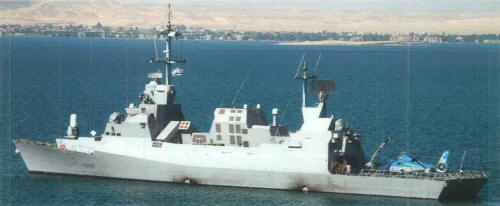 Eilat 2009
Ships
| Name | No | Yard No | Builder | Laid down | Launched | Comp | Fate |
| --- | --- | --- | --- | --- | --- | --- | --- |
| אילת [Eilat] | 501 |   | Ingalls, Pascagoula, USA | 24.2.1992 | 9.2.1993 | 24.5.1994 | in service (2019) |
| להב [Lahav] | 502 |   | Ingalls, Pascagoula, USA | 25.9.1992 | 20.8.1993 | 23.9.1994 | in service (2019) |
| חנית [Hanit] | 503 |   | Ingalls, Pascagoula, USA | 5.4.1993 | 4.5.1994 | 7.2.1995 | in service (2019) |
Technical data
| | |
| --- | --- |
| Displacement standard, t | 1075 |
| Displacement full, t | 1275 |
| Length, m | 76.6 pp 85.6 oa |
| Breadth, m | 11.9 |
| Draught, m | 3.17 hull |
| No of shafts | 2 |
| Machinery | CODOG: 1 General Electric LM-2500 gas turbine / 2 MTU 12V1163 TB82 diesels |
| Power, h. p. | 30000 / 6000 |
| Max speed, kts | 33 |
| Fuel, t | diesel / gas turbine oil |
| Endurance, nm(kts) | 3500(17) |
| Armament | 2 x 4 Harpoon SSM (8 RGM-84C), 2 x 32 Barak SAM (VLS, 64 Barak) (really only 1 x 32 Barak SAM installed), 1 x 6 - 20/76 Phalanx Mk 15, 2 x 1 - 20/70 Mk 10, 4 x 1 - 7.6/90, 2 x 3 - 324 Mk 32 TT (6 Mk 46 Mod.5), 1 helicopter (AS.565SA Atelef) |
| Electronic equipment | SPS-55, EL/M-2228S, 2x EL/M-2221, Mk 90 radars, EDO796, Coris (fitted for) sonars, NS-9003A, NATACS, 2x RAN-1010 ECM suites, 3x Deseaver decoy RL, 2x smoke RL, SLQ-25 Nixie torpedo decoy, AIO III CCS |
| Complement | 74 |
Standard scale images

Eilat 2000
Graphics
Project history
Compact, fast and powerful missile corvettes of Sa'ar 5 class, ordered in 1989 to a design jointly prepared by Haifa SY, Israely Navy and Ingalls. There were originally to have been eight, then four and finally three. Especially designed with the suppression of radar, noise and heat signatures. Ships appeared top-heavy and never received planned 8 Gabriels II SSMs, planned 76mm gun was replaced by Phalanx. They were conceived as flotilla leaders and command ships for groups of FAC(M)s.
Modernizations
late 2000s, all: + 2x MSIS e/o systems

early 2010s, all: - 2 x 1 - 20/70, SPS-55 radar, SLQ-25 Nixie torpedo decoy, AIO III CCS; + 2 x 5 - 25/80 Sea Vulcan 25, EL/M-2218S radar, NS-9005, NS-9009 ECM suites, ATC-1 torpedo decoy, NTCCS2010 CCS
Naval service
Hanit was damaged by Hezbollah's C701 or C802 missile 14.7.2006 but returned to service in August.