NAVYPEDIA
Photo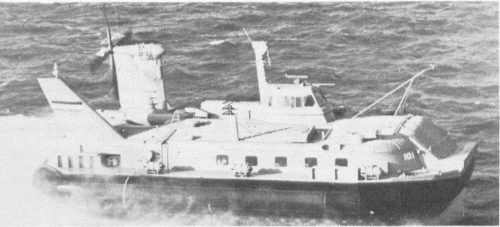 No 101 1975
Ships
Names
Builders
Commissioned
Losses
Transfers
Discarding

101-106

British Hovercraft Cowes, UK: 101-106

1970: 101

1971: 102

1974: 103-105

1975: 106

none

none

in service (2019): 101-106
Technical data
Displacement standard, t

33

Displacement full, t

50-55

Length, m

23.9

Breadth, m

13.8

Draught, m

0

No of shafts

1 air propeller

Machinery

Mk 4: 1 Rolls-Royce Proteus Gnome 15M541 gas turbine

Mk 5A: 1 Rolls-Royce Proteus Gnome 15M549 gas turbine

Power, h. p.

Mk 4: 4750

Mk 5A: 4250

Max speed, kts

65

Fuel, t

gas turbine oil: 9

Endurance, nm(kts)

400(56)

Armament

2 x 1 - 12.7/90

Military load

Mk 4: 2 Harpoon RGM-84 SSM (never loaded) or 60 troops

Mk 5A: 60 troops

Electronic equipment
Decca 914 radar
Complement
 
Standard scale images

No 101 1970
Graphics
Project history
Air-cushion hovercraft. Two craft belonged to Mk 4, and four to Mk 5A versions. Mk 4 craft had to carry Harpoon missiles as attack craft, but Harpoons were never mounted. Mk 5A was originally assault version.
Modernizations
2010s, some: + 2 x 1 Noor SSM (2 C-802)
Naval service
No significant events.
© 2007-2021 - navypedia.org