Photo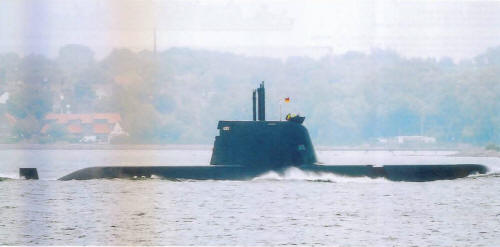 Papanikolis 2008
Ships
| Name | No | Builder | Laid down | Launched | Comp | Fate |
| --- | --- | --- | --- | --- | --- | --- |
| Παπανικολής [Papanikolis] | S120 | Howaldtswerke, Kiel | 30.3.2001 | 22.4.2004 | 21.12.2010 | in service (2019) |
| Πιπίνος [Pipinos] | S121 | Hellenic Shipyards, Skaramanga | 15.10.2002 | 15.2.2007 | 6.10.2014 | in service (2019) |
| Ματρώζος [Matrozos] | S122 | Hellenic Shipyards, Skaramanga | 2.2004 | 27.3.2008 | 23.6.2016 | in service (2019) |
| Κατσώνης [Katsonis] | S123 | Hellenic Shipyards, Skaramanga | 2005 | 29.5.2009 | 23.6.2016 | in service (2019) |
Technical data
| | |
| --- | --- |
| Displacement standard, t |   |
| Displacement normal, t | 1690 / 1860 |
| Length, m | 65.3 |
| Breadth, m | 6.30 |
| Draught, m | 6.60 |
| No of shafts | 1 |
| Machinery | 2 MTU 16V396 diesel-generators, 1 Siemens Permasyn electric motor / 2 Siemens PEM fuel-cell auxiliary propulsion units |
| Power, h. p. | 2700 / 8490 / 326 |
| Max speed, kts | 11 / 21 / 6 |
| Fuel, t | diesel oil |
| Endurance, nm(kts) | 13000(4) / 2400(4) |
| Armament | 8 - 533 TT (bow, 16 (inc. Sub-Harpoon SSM (4 UGM-84C))) |
| Electronic equipment | Sphinx radar, CSU 90 sonar suite, Timmex 2 ECM suite, 2x CIRCE torpedo decoy launchers, ISUS 90-15 CCS |
| Complement | 27 |
| Diving depth operational, m | 400 |
Standard scale images

Papanikolis 2010
Graphics
Project history
Under Project Neptune II, an agreement to order from the HDW-Ferrostaal AG consortium was announced in 1998; the program was approved by the Greek government in 1999, and the contract for three was signed in 2000, with an option for a fourth, which was taken up in 2002. Type 214, based on the Type 212 and Type 209, with the air-independent propulsion and other export-approved systems derived from the German-Italian Type 212 submarine. Work on the first of the Greek-assembled units started 15.1.2002. Papanikolis was completed in 2008 as planned at HDW, Kiel, but Greece rejected it on the basis of claimed technical difficulties. Soon thereafter, the boat was certified to be in working order, indicating that Greek funding problems, not technical difficulties, were the probable cause of the boat's rejection. Following political, legal, and financial wrangling, Papanikolis finally entered service in 2010, reversing Greece's controversial decision to accept only domestically produced submarines of the class. As part of the agreement two additional units were ordered with construction to begin at Hellenic SY in 2013, though budget woes may force cancellation of these fifth and sixth units.

Inner and outer hulls of austenitic steel; 10% reserve buoyancy. Employ the STN Atlas Elektronik ISUS 90 system. Sonar array includes cylindrical MF passive array forward, MF/LF passive flank system (with three arrays per side), provision for a towed LF passive array, an active ranging set, and a bow-mounted active mine-avoidance set. Four of the eight weapons tubes have expulsion systems to enable launching Harpoon missiles; the other tubes are of the swim-out launch variety.
Modernizations
None.
Naval service
No significant events.