NAVYPEDIA
Photo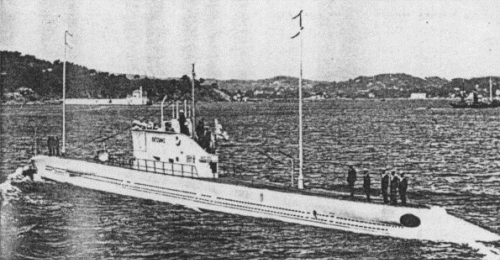 Katsonis 1928
Ships
| Name | No | Yard No | Builder | Laid down | Launched | Comp | Fate |
| --- | --- | --- | --- | --- | --- | --- | --- |
| Κατσώνης [Katsonis] | Y1 |   | F C de la Gironde, Bordeaux, France | 1925 | 20.3.1926 | 6.1928 | sunk 14.9.1943 |
| Παπανικολής [Papanikolis] | Y2 |   | A C de la Loire, Nantes, France | 1925 | 19.11.1926 | 12.1927 | discarded 1945 |
Technical data
| | |
| --- | --- |
| Displacement standard, t | ? |
| Displacement normal, t | 576 / 775 |
| Length, m | 62.4 pp 62.5 oa |
| Breadth, m | 5.30 |
| Draught, m | 3.40 mean 3.60 max |
| No of shafts | 2 |
| Machinery | 2 Schneider-Carels diesels / 2 electric motors |
| Power, h. p. | 1200 / 1000 |
| Max speed, kts | 14 / 9.5 |
| Fuel, t | diesel oil |
| Endurance, nm(kts) | 3500(10) / 100(5) |
| Armament | 1 x 1 - 100/40 Schneider QF, 6 - 533 TT (4 bow, 2 stern, 7) |
| Complement | 39 |
| Diving depth operational, m | 80 |
Standard scale images

Katsonis 1928
Graphics
Project history
Submarines ordered in in 1925. Schneider-Laubeuf design; very similar to French submarines of Circé 600t class. Two of four bow and both stern TTs were installed out of a pressure hull. 100mm gun took place on a fin structure. Tactical designations were Y1 and 2.
Modernizations
1930s, both: + 1 x 1 - 40/39 2pdr QF Mk VIII
Naval service
Katsonis was sunk 14.9.1943 by German submarine chaser UJ2101 in Aegean sea. Papanicolis was stricken after hostilities end, but her CT was stored as a monument.
© 2007-2022 - navypedia.org