Photo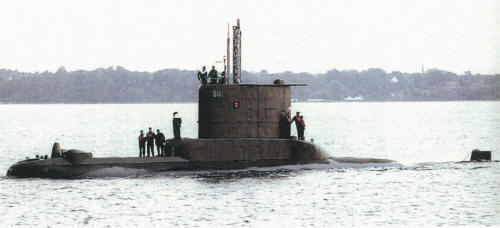 Nereus 2000
Ships
| Name | No | Yard No | Builder | Laid down | Launched | Comp | Fate |
| --- | --- | --- | --- | --- | --- | --- | --- |
| Γλαύκος [Glavkos] | S110 |   | Howaldtswerke, Kiel, West Germany | 1.9.1968 | 15.9.1970 | 5.11.1971 | stricken 6.2011 |
| Νηρεύς [Nereus] | S111 |   | Howaldtswerke, Kiel, West Germany | 15.1.1969 | 7.6.1971 | 10.2.1972 | in service (2019) |
| Τρίτων [Triton] | S112 |   | Howaldtswerke, Kiel, West Germany | 1.6.1969 | 19.10.1971 | 23.11.1972 | in service (2019) |
| Πρωτεύς [Proteus] | S113 |   | Howaldtswerke, Kiel, West Germany | 1.10.1969 | 1.2.1972 | 23.11.1972 | in service (2019) |
Technical data
| | |
| --- | --- |
| Displacement standard, t | 990 |
| Displacement normal, t | 1105 / 1230 |
| Length, m | 54.4 |
| Breadth, m | 6.20 |
| Draught, m | 5.00 |
| No of shafts | 1 |
| Machinery | 4 MTU 12V493 TY60 diesel-generators, 1 Siemens electric motor |
| Power, h. p. | 2200 / 5000 |
| Max speed, kts | 11 / 22 |
| Fuel, t | diesel oil |
| Endurance, nm(kts) | 8600(4)(snorkel) / 400(4) |
| Armament | 8 - 533 TT (bow, 14 Mk 37 mod.2, SST-4) |
| Electronic equipment | Calypso radar, CSU-3-4 sonar suite (AN526, AN406A9, DUUX-2 sonars), AR-700-S5 ECM suite |
| Complement | 36 |
| Diving depth operational, m | 250 |
Standard scale images

Glavkos 1980
Graphics
Project history
Greece was the first country to adopt the German-designed and -built Type 209 single-hulled submarine, which has since been purchased by Turkey and many South American navies. She can dive to 250m, and has a powerful battery of torpedo tubes (plus reload torpedoes) and a comparatively small crew. These submarines (first series of Type 209/1100) had proved to be rather too cramped to take all the equipment, electronics and crew.
Modernizations
1993, Triton; 1995, Proteus; 1997, Glavkos; 2000, Nereus: - 8 - 533 TT (bow, 14 Mk 37 mod.2, SST-4), Calypso radar, AN526, AN406A9 sonars; + 8 - 533 TT (bow, 14 (inc. Sub-Harpoon SSM (4 UGM-84C)) Mk 37 mod.2, SUT), Calypso-II radar, DBSQS-21 sonar (forming with DUUX-2 sonar CSU-83-90 sonar suite), PRS-3/15, FAS-3 sonars, Kanaris CCS
Naval service
No significant events.