NAVYPEDIA Support the project with paypal
Photo

Navmachos 2002
Ships
| Name | No | Yard No | Builder | Laid down | Launched | Comm | Fate |
| --- | --- | --- | --- | --- | --- | --- | --- |
| Αρματωλός [Armatolos] | P18 |   | Hellenic Shipyards, Skaramanga | 8.5.1989 | 19.12.1989 | 9.3.1990 | in service (2019) |
| Ναυμάχος [Navmachos] | P19 |   | Hellenic Shipyards, Skaramanga | 9.11.1989 | 16.5.1990 | 15.7.1990 | in service (2019) |
Technical data
| | |
| --- | --- |
| Displacement standard, t | 420 |
| Displacement full, t | 515 |
| Length, m | 51.6 pp 54.8 oa |
| Breadth, m | 8.10 wl 10.0 oa |
| Draught, m | 2.55 |
| No of shafts | 2 |
| Machinery | 2 MTU 12V1163 TB93 diesels |
| Power, h. p. | 10000 |
| Max speed, kts | 24 |
| Fuel, t | diesel oil |
| Endurance, nm(kts) | 2200(16) |
| Armament | 1 x 1 - 40/70 Breda-Bofors 564, 2 x 1 - 20/90 Rh-202, mines |
| Electronic equipment | Decca 1226 radar, DR2000 ECM suite, 2x Barricade decoy RL |
| Complement | 36 + 25 troops |
Standard scale images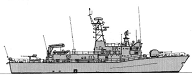 similar Pyrpolitis 2000
Graphics
Project history
Lengthened version of Osprey 55 design licensed from Frederikshavn Vaerft, Denmark. Original order for two units (with an option for two more) placed in 1988. It was intended to arm them with four Harpoon SSM, a twin Bofors mount plus associated radars. Only two boats were built, the further ten projected vessels were cancelled in favour of the locally-designed 'P 100' class.
Modernizations
1994, both: + 1 x 1 - 76/62 OTO-Melara Compact, Triton-G, RTN-10X radars
Naval service
No significant events.
© 2007-2023 - navypedia.org