Photo

Hydra 1932
Ships
| Name | No | Yard No | Builder | Laid down | Launched | Comp | Fate |
| --- | --- | --- | --- | --- | --- | --- | --- |
| Κουντουριώτης [Kountouriotis] |   |   | Odero, Sestri Ponente, Italy | 1930 | 29.8.1931 | 11.1932 | BU 9.1946 |
| Ύδρα [Hydra] |   |   | Odero, Sestri Ponente, Italy | 1930 | 21.10.1931 | 11.1932 | sunk 22.4.1941 |
| Ψαρά [Psara] |   |   | Odero, Sestri Ponente, Italy | 1931 | 1932 | 5.1933 | sunk 20.4.1941 |
| Σπέτσαι [Spetsai] |   |   | Odero, Sestri Ponente, Italy | 1931 | 1932 | 5.1933 | BU 9.1947 |
Technical data
Displacement standard, t

1389

Displacement full, t
2050
Length, m

92.4 pp 94.3 oa

Breadth, m

9.75

Draught, m

3.30

No of shafts

2

Machinery

2 sets Parsons geared steam turbines, 3 Thornycroft boilers

Power, h. p.

44000

Max speed, kts

38

Fuel, t

oil 640

Endurance, nm(kts)
5800(20)
Armament

Kountouriotis, Hydra: 4 x 1 - 120/50 Ansaldo 1926, 3 x 1 - 40/39 Vickers-Terni 1915/1917, 2 x 3 - 533 TT, 40 mines

Psara, Spetsai: 4 x 1 - 120/50 Ansaldo 1926, 3 x 1 - 40/39 Vickers-Terni 1915/1917, 2 x 3 - 533 TT

Complement

156
Standard scale images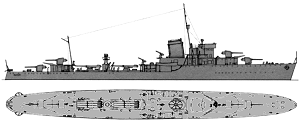 Hydra 1932
Graphics
Project history
In October, 1929, in reply to building of 4 destroyers for Turkey, Greece also ordered 4 ships of the given type in Italy. Design was developed on the basis of newest Italian Dardo and Folgore classes destroyers, kept the same machinery and one-funneled outline profile, but differed by moderated hull length, decreased bridge and main guns installed in single mounts under superfiring scheme. At building welding was widely used. All armament was Italian. On trials Spetsai shown 41.5kts at 52000hp.
Modernizations
(Spring 1942, Bombay DYd), Kountouriotis, Spetsai: - 1 x 1 - 120/50, 1 x 3 - 533 TT; + 1 x 1 - 76/40 12pdr 12cwt QF Mk I/II/V, 2 x 1 - 20/70 Oerlikon Mk II/IV, 8 DCT, 2 DCR, type 128 sonar
Naval service
Psara was sunk 20.4.1941 by German and Italian Ju 87 diving bombers in Bay of Athens. Hydra was sunk 22.4.1941 by German aircraft in the same place. Kountouriots and Spetsai were laid up into reserve: Spetsai 29.9.1943, Kountouriotis 13.12.1943; they were never commissioned again and handed over on demolition in 1946-1947.