Photo

Elli 1930
Ships
| Name | No | Yard No | Builder | Laid down | Launched | Comp | Fate |
| --- | --- | --- | --- | --- | --- | --- | --- |
| Έλλη [Elli] (ex-飛鴻 [Fei Hung]) |   |   | New York SB, Camden, USA | 1910 | 4.5.1912 | 11/1913 // 14.5.1914 | sunk 15.8.1940 |
Technical data
Data variant
as completed
as modernized 1929
Displacement standard, t
---

2115

Displacement normal, t

2600

Displacement full, t
2750
2750
Length, m

97.5 pp 98.1 oa

97.5 pp 98.1 oa

Breadth, m

11.9

11.9

Draught, m

4.26

4.26

No of shafts

3

3

Machinery

3 Parsons steam turbines, 3 Thornycroft watertube boilers

3 Parsons steam turbines, 3 Thornycroft watertube boilers

Power, h. p.

7500

7500

Max speed, kts

20

20.5

Fuel, t

coal 600 + oil 100

oil 600

Endurance, nm(kts)
4500(10)
7000(10)
Armour, mm

deck: 25 with 51mm slopes, CT: 50

deck: 51 with 51mm slopes, CT: 50

Armament

2 x 1 - 152/45 Armstrong Mk NN, 4 x 1 - 102/50 Armstrong P, 2 x 1 - 76/40 Armstrong N, 6 x 1 - 47/40 Hotchkiss, 2 x 1 - 37/27 Maxim, 2 x 1 - 450 TT

3 x 1 - 152/50 Armstrong Mk WW, 2 x 1 - 76/40 Armstrong N, 2 x 1 - 57/40 Hotchkiss AA, 2 x 1 - 450 TT, 110 mines

Complement

232

232
Standard scale images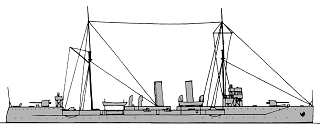 Elli 1914

Elli 1939
Graphics
Project history
Cruiser was built in the USA under Chinese order as Fei Hung and completed in November, 1913, but was not redeemed by customer and 14.5.1914 she was sold to Greece, being renamed Elli (in English-speaking sources often there is writing Helle). On an original design she was close to British-built Chinese cruisers Chao Ho and Jing Swei, in particular, she had forecastle and poop, boilers with coal/oil combustion and mixed artillery. On trials she shown 20.3kts at 8640hp. In 1925-1929 Elli passed repair and modernization with conversion to cruiser-minelayer.
Ship protection
Ship was protected by only main deck with slopes, covered machinery.
Modernizations
1917: + 1 x 1 - 57/40 Hotchkiss, 2 x 1 - 47/40 Hotchkiss

(1925-1929, F C de la Méditerranée, La Seyne, France): the poop was sheared (aft 152mm gun was thus installed one deck lower), superstructures were completely reconstructed, funnels were moved, mine rails for 110 mines were fitted aft, all armament was changed. Boilers were converted on pure oil-firing, however by 1940 speed because of deterioration of machinery did not exceed 18kts. Thanks to the spared weight, the thickness of main protected deck was increased to 51mm. New data was as given in the table.

1930s: - 2 x 1 - 57/40; + 2 x 1 - 40/39 2pdr QF Mk II
Naval service
In 1916-1917 Elli served under French flag. Elli 15.8.1940 (before official declaration of war) was torpedoed and sunk by Italian submarine Delfino off island Tinos.