Photo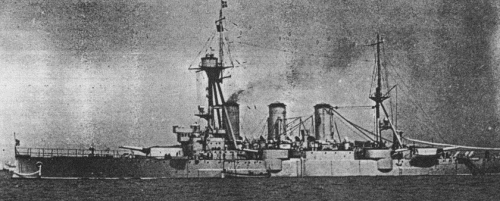 Averof 1911
Ships
| Name | No | Yard No | Builder | Laid down | Launched | Comp | Fate |
| --- | --- | --- | --- | --- | --- | --- | --- |
| Αβέρωφ [Averof] |   |   | Orlando, Leghorn, Italy | 1907 | 12.3.1910 | 16.5.1911 | training hulk 8.1952 |
Technical data
| | |
| --- | --- |
| Displacement normal, t | 9958 |
| Displacement full, t | 10200 |
| Length, m | 129.8 pp 140.8 oa |
| Breadth, m | 21.0 |
| Draught, m | 7.50 |
| No of shafts | 2 |
| Machinery | 2 VTE, 22 Belleville boilers |
| Power, h. p. | 19000 |
| Max speed, kts | 22.5 |
| Fuel, t | coal 1500 |
| Endurance, nm(kts) | 7125(10) |
| Armour, mm | belt: 200 - 80, upper belt: 180 - 175, deck: 50, main turrets: 140, main barbettes: 190, secondary turrets: 175, CT: 180 |
| Armament | 2 x 2 - 234/45 Armstrong Mk H, 4 x 2 - 190/45 Armstrong Mk B, 16 x 1 - 76/40 Armstrong Mk N, 4 x 1 - 47/40 Hotchkiss, 3 - 450 TT (1 bow, 2 beam) |
| Complement | 670 |
Standard scale images

Averof 1911

Averof 1939
Graphics
Project history
In 1907 Greece ordered to Orlando design of 10000t armoured cruiser armed with 4 254mm, 12 152mm and 12 76mm guns and 25kts speed. The design was made, but in view of financial difficulties building of ship did not begin. The same year Orlando begun building of third ship of Amalfi class for Italian Navy. In 1908 successors of Greek millionaire Georgios Averof (1818-1898) declared assignment for purchase of new flagship for Hellenic Navy, and in October, 1909 incomplete cruiser (yet not received Italian name) was sold to Greece for 950,750£, having received a name of sponsor (Averofs family has granted about a quarter of sum).

Averof (in literature often called Georgios Averof though officially in ship`s name the surname without a name was used only) became one of last classical armoured cruiser. Machinery was built by Ansaldo. On trials ship reached 23.9kts at 21500hp. All artillery was delivered by Armstrong. From Italian sister-ships Averof differed by main artillery: 234mm/45 guns instead of 254mm/45.
Ship protection
Ship was protected by waterline by 200mm belt with ~3.5m height, stretched between middles of main gun turret barbettes. Between barbettes of medium gun turrets there was an upper belt with 1.5m height and 175-180mm thickness.
Modernizations
1914-1918: + 1 x 1 - 76/40 Armstrong Mk N AA

(1925-1927, F C de la Méditerranée, La Seyne, France): ship was reboilered; - 9 x 1 - 76/40 (inc AA gun), 4 x 1 - 47/40, 3 - 450 TT; + 4 x 1 - 76/40 12pdr 12cwt QF Mk I/II/V, 4 x 1 - 40/39 2pdr QF Mk II

1930s: + 1 x 1 - 40/39 2pdr QF Mk II

to 1941: - 5 x 1 - 40/39; + 6 x 1 - 20/65 C/38
Naval service
1-13.3.1935 cruisers crew leaded antigovernment revolt. Since 1946 Averoff was used as command ship at Salamin, since 1952 as training hulk. In 1984-1986 Averof passed repair on Niarchos Yard and Elefsis Yard and then was preserved as museum ship at Piraeus, where she is stored on present time.