NAVYPEDIA Support the project with paypal
Photo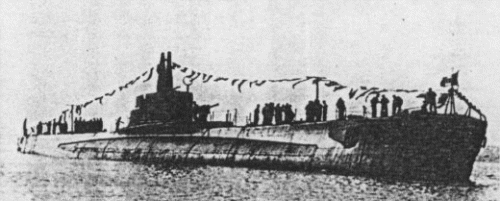 Capitano Tarantini 1940
Ships
| Name | No | Yard No | Builder | Laid down | Launched | Comp | Fate |
| --- | --- | --- | --- | --- | --- | --- | --- |
| UIT22 (ex-Alpino Bagnolini) |   |   | Tosi, Taranto, Italy | 12.1938 | 28.10.1939 | 12/1939 // 10.1943 | sunk 11.3.1944 |
| UIT23 (ex-Reginaldo Giuliani) |   |   | Tosi, Taranto, Italy | 3.1938 | 13.3.1939 | 2.1940 // 10.1943 | sunk 14.2.1944 |
Technical data
| | |
| --- | --- |
| Displacement standard, t | 1015 |
| Displacement normal, t | 1148 / 1460 |
| Length, m | 76.1 |
| Breadth, m | 6.98 |
| Draught, m | 4.55 |
| No of shafts | 2 |
| Machinery | 2 Tosi diesels / 2 Ansaldo electric motors |
| Power, h. p. | 3500 / 1400 |
| Max speed, kts | 17.7 / 8.5 |
| Fuel, t | diesel oil 135 |
| Endurance, nm(kts) | 13000(8) / 108(4) |
| Armament | 1 x 1 - 100/47 M1938, 2 x 2 - 13.2/76, 8 - 533 TT (4 bow, 4 stern, 12) |
| Electronic equipment | sonar, hydrophone |
| Complement | 58 |
| Diving depth operational, m | 90 |
Standard scale images

UIT22 1943
Graphics
Project history
UIT22 was former Italian submarine Alpino Bagnolini, 9.9.1943 captured at Bordeaux after capitulation of Italy and 14.10.1943 entered German service. UIT23 was former Italian submarine Reginaldo Giuliani, 10.9.1943 captured by Japanese at Singapore and 22.10.1943 transferred to Kriegsmarine.
Modernizations
1943, both: artillery consisted of 1 x 2 - 20/65 C/38; + FuMO 30 radar, FuMB 3 Bali, FuMB 6 Palau ECM suites
Naval service
UIT22 was sunk 11.3.1944 by Catalina of 262nd AF sqn S off Capetown. UIT23 was torpedoed 15.2.1944 by British submarine Tally Ho in Malacca Strait.
© 2007-2022 - navypedia.org