Photo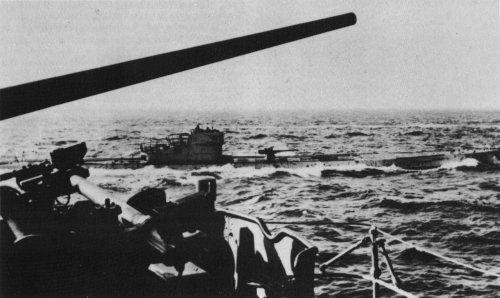 U124
Ships
| Name | No | Yard No | Builder | Laid down | Launched | Comp | Fate |
| --- | --- | --- | --- | --- | --- | --- | --- |
| U64 |   | 952 | Deschimag, Bremen | 11.1938 | 20.9.1939 | 12/1939 | sunk 13.4.1940 |
| U65 |   | 953 | Deschimag, Bremen | 12.1938 | 6.11.1939 | 2/1940 | sunk 28.4.1941 |
| U103 |   | 966 | Deschimag, Bremen | 9.1939 | 12.4.1940 | 7/1940 | stricken 3.1944 |
| U104 |   | 967 | Deschimag, Bremen | 11.1939 | 25.5.1940 | 8/1940 | sunk after 28.11.1940 |
| U105 |   | 968 | Deschimag, Bremen | 11.1939 | 15.6.1940 | 9/1940 | sunk 2.6.1943 |
| U106 |   | 969 | Deschimag, Bremen | 11.1939 | 17.6.1940 | 9/1940 | sunk 2.8.1943 |
| U107 |   | 970 | Deschimag, Bremen | 12.1939 | 2.7.1940 | 10/1940 | sunk 18.8.1944 |
| U108 |   | 971 | Deschimag, Bremen | 12.1939 | 15.7.1940 | 10/1940 | sunk 11.4.1944 |
| U109 |   | 972 | Deschimag, Bremen | 3.1940 | 14.9.1940 | 12/1940 | sunk 4.5.1943 |
| U110 |   | 973 | Deschimag, Bremen | 2.1940 | 25.8.1940 | 11/1940 | sunk 10.5.1941 |
| U111 |   | 976 | Deschimag, Bremen | 2.1940 | 6.9.1940 | 12/1940 | sunk 4.10.1941 |
| U122 |   | 954 | Deschimag, Bremen | 3.1939 | 20.12.1939 | 3.1940 | sunk after 22.6.1940 |
| U123 |   | 955 | Deschimag, Bremen | 4.1939 | 2.3.1940 | 5.1940 | stricken 6.1944, to France 1947 (Blaison) |
| U124 |   | 956 | Deschimag, Bremen | 4.1939 | 9.3.1940 | 6.1940 | sunk 2.4.1943 |
Technical data
Displacement standard, t

 

Displacement normal, t

1051 / 1178

Length, m

76.5

Breadth, m

6.76

Draught, m

4.70

No of shafts

2

Machinery

2 MAN diesels / 2 SSW electric motors

Power, h. p.

4400 / 1000

Max speed, kts

18.2 / 7.3

Fuel, t

diesel oil 165

Endurance, nm(kts)
12000(10) / 64(4)
Armament

1 x 1 - 105/42 SK C/32, 1 x 1 - 37/80 SK C/30, 1 x 1 - 20/65 C/38, 6 - 533 TT (4 bow, 2 stern, 22 or 66 mines)

U103, 124: 1 x 1 - 105/42 SK C/32, 1 x 1 - 37/80 SK C/30, 1 x 1 - 20/65 C/38, 6 - 533 TT (4 bow, 2 stern, 22)

Electronic equipment
GHG hydrophone
Complement

48

Diving depth operational, m
100
Graphics
Project history
Oceangoing submarines for operations in far areas. The design was developed on the basis of U81-86 submarine cruisers of the period of the First World War with application of decisions included in the I series. Double-hulled, maximal diving depth was 200m, minimal diving time was 35sec. At the same time, the big dimensions done these submarines less mobile and manoeuvrable and fast in submerged position.

At the expense of increase in breadth of inter-hull space from 1.05 to 1.15 m and some reduction of batteries number it was possible to increase a fuel stowage and, as consequence, surfaced endurance of series IXB submarines.

All boats of a series were distinguished by presence of three periscopes. Instead of torpedoes 44 TMA or 66 TMB mines could be carried. Strengthening of antiaircraft armament has begun from late 1942. 37mm gun was transferred from a deck to a special platform ("Wintergarten") behind CT (under which two additional spare torpedoes were stored), instead of 1 single 20mm MG 2 single or twin such MGs were installed, 105mm gun was removed. From the second half of 1943 submarines received snorkel.
Modernizations
late 1942, most survived: - 1 x 1 - 105/42, 1 x 1 - 20/65; + 2 x 2 - 20/65 C/38 or 2 x 1 - 20/65 C/38, FuMO 30 radar, FuMB 1 Metox ECM suite

1943-1944, most survived: - FuMB 1 Metox ECM suite; + FuMB 3 Bali, FuMB 6 Palau ECM suites
Naval service
During operations 150 of 194 commissioned IX series submarines were lost.

U64 was sunk 13.4.1940 at Narvik by Swordfish of 700th FAA sqn from battleship Warspite. U65 was sunk 28.4.1941 by British destroyer Douglas in Northern Atlantic, SE off Iceland.

U103 was stricken 13.3.1944 and scuttled at Kiel 3.5.1945. U104 was lost, presumably, 28.11.1940 on British mines at NW Coast of Ireland. U105 was sunk 2.6.1943 by French CAMS.141 Antares aircraft W off Dakar. U106 was sunk 2.8.1943 by Sunderlands of 228th and 461st RAF sqns NW off Cape Ortegal, Spain. U107 was sunk 18.8.1943 by Sunderland of 201st RAF sqn SW off St. Nazaire. U108 was sunk 11.4.1944 during raid of US 8th Air Army bombers to Stettin; she was raised but stricken 17.7.1944 and ultimately scuttled 24.4.1945 on the Oder at Swinemünde. U109 was sunk 7.5.1943 by Liberator of 86th RAF sqn in Northern Atlantic W off Brest. U110 was damaged and captured 9.5.1941 by British destroyers Bulldog, Broadway and corvette Aubretia in Northern Atlantic but foundered 10.5.1941 under tow E off Cape Farewell. U111 was sunk 4.10.1941 by British armed trawler Lady Shirley off Tenerife (Canary Islands). U122 after 21.6.1940 was lost in Bay of Biscay. U123 was stricken 17.6.1944, on reparations transferred to France as Blaison, BU 1959. U124 was sunk 2.4.1943 by British sloop Black Swan and corvette Stonecrop W off Porto (Portugal).