Photo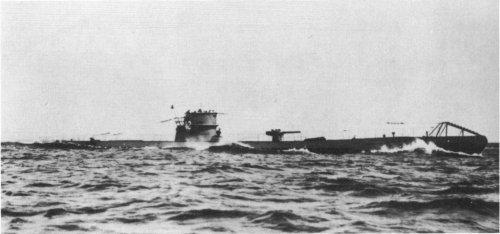 U42
Ships
| Name | No | Yard No | Builder | Laid down | Launched | Comp | Fate |
| --- | --- | --- | --- | --- | --- | --- | --- |
| U37 |   | 942 | Deschimag, Bremen | 3.1937 | 14.5.1938 | 8/1938 | scuttled 8.5.1945 |
| U38 |   | 943 | Deschimag, Bremen | 4.1937 | 9.8.1938 | 10/1938 | scuttled 5.5.1945 |
| U39 |   | 944 | Deschimag, Bremen | 6.1937 | 22.9.1938 | 12/1938 | sunk 14.9.1939 |
| U40 |   | 945 | Deschimag, Bremen | 7.1937 | 9.11.1938 | 2/1939 | sunk 13.10.1939 |
| U41 |   | 946 | Deschimag, Bremen | 11.1937 | 20.1.1939 | 4/1939 | sunk 5.2.1940 |
| U42 |   | 947 | Deschimag, Bremen | 12.1937 | 16.2.1939 | 7/1939 | sunk 13.10.1939 |
| U43 |   | 948 | Deschimag, Bremen | 8.1938 | 23.5.1939 | 8/1939 | sunk 30.7.1943 |
| U44 |   | 949 | Deschimag, Bremen | 9.1938 | 5.8.1939 | 11/1939 | sunk ~ 13.3.1940 |
Technical data
| | |
| --- | --- |
| Displacement standard, t |   |
| Displacement normal, t | 1032 / 1153 |
| Length, m | 76.5 |
| Breadth, m | 6.51 |
| Draught, m | 4.70 |
| No of shafts | 2 |
| Machinery | 2 MAN diesels / 2 SSW electric motors |
| Power, h. p. | 4400 / 1000 |
| Max speed, kts | 18.2 / 7.7 |
| Fuel, t | diesel oil 154 |
| Endurance, nm(kts) | 10500(10) / 65 - 78(4) |
| Armament | 1 x 1 - 105/42 SK C/32, 1 x 1 - 37/80 SK C/30, 1 x 1 - 20/65 C/38, 6 - 533 TT (4 bow, 2 stern, 22 or 66 mines) |
| Electronic equipment | GHG hydrophone |
| Complement | 48 |
| Diving depth operational, m | 100 |
Graphics
Project history
Oceangoing submarines for operations in far areas. The design was developed on the basis of U81-86 submarine cruisers of the period of the First World War with application of decisions included in the I series. Double-hulled, maximal diving depth was 200m, minimal diving time was 35sec. At the same time, the big dimensions done these submarines less mobile and manoeuvrable and fast in submerged position.

IXA series ships had the wide deck completely hiding saddle tanks, but were considered not too successful because of an endurance poorly differing from medium submarines of VII series.

All boats of a series were distinguished by presence of three periscopes. Instead of torpedoes 44 TMA or 66 TMB mines could be carried. Strengthening of antiaircraft armament has begun from late 1942. 37mm gun was transferred from a deck to a special platform ("Wintergarten") behind CT (under which two additional spare torpedoes were stored), instead of 1 single 20mm MG 2 single or twin such MGs were installed, 105mm gun was removed. From the second half of 1943 submarines received snorkel.
Modernizations
late 1942, most survived: - 1 x 1 - 105/42, 1 x 1 - 20/65; + 2 x 2 - 20/65 C/38 or 2 x 1 - 20/65 C/38, FuMO 30 radar, FuMB 1 Metox ECM suite

1943-1944, most survived: - FuMB 1 Metox ECM suite; + FuMB 3 Bali, FuMB 6 Palau ECM suites

1944-1945, some survived: - FuMO 30 radar; + FuMO 61 radar
Naval service
During operations 150 of 194 commissioned IX series submarines were lost.

U37 was scuttled by crew 5.5.1945 in Sonderburg Bay. U38 was scuttled by crew 5.5.1945 off Wesermünde. U39 was sunk 14.9.1939 by British destroyers Faulknor, Firedrake and Foxhound W off Gebrides: first German subarine lost in the Second World War. U40 was lost 13.10.1939 on a mine in the Dover Strait. U41 was sunk 5.2.1940 by British destroyer Antelope SW off Ireland. U42 was sunk 13.10.1939 by British destroyers Imogen and Ilex SW off Ireland. U43 was sunk 30.7.1943 by Avengers and Wildcats from American escort carrier Santee SW off Azores. U44 was lost, presumably, 13.3.40 N off Terschelling on the mines laid by British destroyers Esk, Express, Icarus and Impulsive.