NAVYPEDIA Support the project with paypal
Ships
| Name | No | Yard No | Builder | Laid down | Launched | Comp | Fate |
| --- | --- | --- | --- | --- | --- | --- | --- |
| K4 Lorelei (ex-Artevelde) |   | 686 | Cockerill, Antwerp, Belgium / Wilton-Fijenoord, Schiedam | 1939 | 28.8.1940 | 4.1943 | surrendered 5.1945, to Belgium 6.1945 (Artevelde) |
Technical data
| | |
| --- | --- |
| Displacement standard, t | 1640 |
| Displacement full, t | 2306 |
| Length, m | 94.8 wl 98.5 oa |
| Breadth, m | 10.5 |
| Draught, m | 3.3 normal 3.80 deep load |
| No of shafts | 2 |
| Machinery | 2 sets Parsons-Rateau geared steam turbines, 2 Babcock & Wilcox boilers |
| Power, h. p. | 21700 |
| Max speed, kts | 28.5 |
| Fuel, t | oil 680 |
| Endurance, nm(kts) | 1200(19) |
| Armament | 3 x 1 - 105/42 SK C/32, 1 x 2 - 37/80 SK C/30, 2 x 1 - 37/80 SK C/30, 2 x 4 - 20/65 C/38, 2 x 1 - 20/65 C/38, 120 mines, mechanical minesweeping gear |
| Complement | 180 |
Standard scale images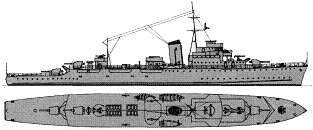 K4 Lorelei 1943
Project history
Former Belgian fishery protection vessel and royal yacht Artevelde. Ship was captured on a slipway in Antwerp, renamed Lorelei and 28.8.1940 renamed again as K4. K4 was launched under German control and towed off to the Netherlands for outfitting, during which time she received German armament (designed armament consisted from 2 twin 102mm guns and 1 twin 40mm AA MG). Machinery had British origin: Parsons turbine units and Babcock & Wilcox boilers with raised steam parameters (32atm, 400°C). Ship differed as seaworthy and fast, but had no any protection (except 40mm gun shields) and had poor stability. The Basic purpose of ship was anti-air defence of convoys.
Modernizations
till 1945: - 2 x 1 - 37/80, 2 x 1 - 20/65; + 2 x 1 - 40/56 FlaK 28, 1 x 4 - 20/65 C/38, 2 x 2 - 20/65 C/38.
Naval service
After war K4 was returned to Belgium where served under former name till 1954.
© 2007-2023 - navypedia.org