Photo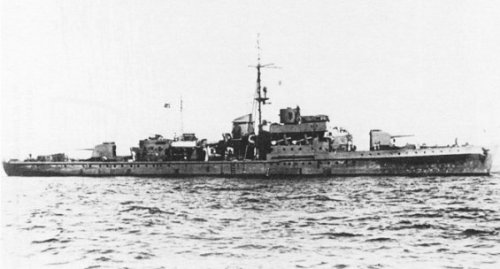 K1
Ships
| Name | No | Yard No | Builder | Laid down | Launched | Comp | Fate |
| --- | --- | --- | --- | --- | --- | --- | --- |
| K1 (ex-A) |   | 524 | P. Smit, jr., Rotterdam | 8.1939 | 23.11.1940 | 10.1941 | sunk 5.5.1945 |
| K2 (ex-B) |   | 750 | N. V. Werf Gusto, Schiedam | 1939 | 28.6.1941 | 11.1942 | damaged 9.10.1944, never repaired |
| K3 (ex-C) |   | 525 | P. Smit, jr., Rotterdam | 6.1939 | 22.3.1941 | 2.1942 | surrendered 5.1945, to Netherlands 5.1945 (Van Speyk 6.1946) |
Technical data
Displacement standard, t

1200

Displacement full, t
1420
Length, m

75.2 wl 77.9 oa

Breadth, m

10.2

Draught, m

2.90 normal 3.90 deep load

No of shafts

2

Machinery

K1, 2: 2 Germania diesels

K3: 2 HKD diesels

Power, h. p.

K1, 2: 2770

K3: 1760

Max speed, kts

K1, 2: 15.5

K3: 14.5

Fuel, t

diesel oil 157

Endurance, nm(kts)
6900(12)
Armour, mm
belt: 60 - 40, deck: 35 - 20, turrets: 60, CT: 20
Armament

2 x 2 - 120/45 Mk 8, 2 x 2 - 37/80 SK C/30, 2 x 4 - 20/65 C/38, 2 x 2 - 20/65 C/38, 4 DCT, 80 mines

Electronic equipment
presumably GHG hydrophone
Complement

161
Standard scale images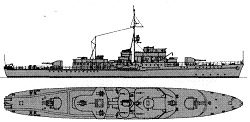 K2 1945
Graphics
Project history
Ex-Dutch gunboats "A", "B" and "C" (7-ship series was assumed, but building of four was cancelled by Dutch Government 14.5.1940). Multi-purpose ships, capable to act against a shore and to be used as escorts, therefore had armour and dual-purpose armament (2 twin 120mm/45, 2 twin 40mm/56 mounts, 4 12.7mm MGs and 4 DCTs). Armoured belt covered about 63% of ship length, abreast machinery its thickness was 60-50mm, at ship ends 40mm, 35-20mm armoured deck was connected with its upper edge.

Ships were captured on slipways by German troops and completed under the changed design. Original Dutch main guns in turret mounts and fire control system were retained (they were similar to established on destroyer ZH1). German AA and ASW armament were installed, ships could carry mines. Instead of 3500hp Burmeister & Wain diesels, provided by original design. K1 and K2 received Germania diesels, used on VII series submarines, and K3 received Humboldt-Klockner-Deutz (HKD) diesels. Both formers and latter were less powerful and maximal speed of gunboats has appeared below designed 18kts. K2 was damaged by Allied aircraft during completion, it delayed her commission approximately for a year.
Ship protection
Main belt protected 63% of hull length, its thickness was 60-50mm abreast machinery and 40mm at ship ends. 35-20mm flat deck connected with upper edge of main belt.
Modernizations
1943, all: + 4 DCT, presumably S-Gerät sonar
Naval service
Ships were appeared rather successful and were actively used for convoys support. K1 was sunk 5.5.1945 by British aircraft at Arhus. K2 was hard damaged 28.9.1944 by British torpedo bomber off Bergen, repair was never finished; after war she was returned to the Netherlands and broken up. K3 was returned to the Netherlands and as Van Speyk served till 1960.