Photo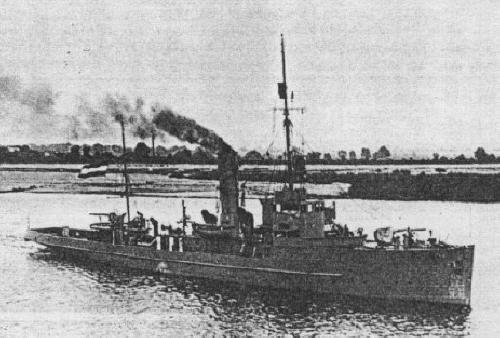 M39 1916
Ships
| Name | No | Yard No | Builder | Laid down | Launched | Comp | Fate |
| --- | --- | --- | --- | --- | --- | --- | --- |
| M27 |   | 363 | Neptun, Rostock | 1915 | 15.4.1916 | 5.1916 | collision 11.8.1916 |
| M28, 3.1929- Pelikan, 10.1940- M528 |   | 364 | Neptun, Rostock | 1915 | 6.5.1916 | 6.1916 | test ship 3.1929, minesweeper 10.1940, surrendered 5.1945, sold 1947 |
| M29 |   | 365 | Neptun, Rostock | 1915 | 27.5.1916 | 7.1916 | stricken 10.1921 |
| M30 |   | 366 | Neptun, Rostock | 1915 | 17.6.1916 | 8.1916 | stricken 10.1921 |
| M31 |   | 381 | Seebeck, Geestemünde | 1915 | 30.4.1916 | 6.1916 | sunk 7.10.1917 |
| M32 |   | 382 | Seebeck, Geestemünde | 1915 | 14.5.1916 | 6.1916 | stricken 3.1920 |
| M33 |   | 383 | Seebeck, Geestemünde | 1915 | 25.6.1916 | 7.1916 | stricken 3.1920 |
| M34 |   | 384 | Seebeck, Geestemünde | 1915 | 25.6.1916 | 8.1916 | stricken 3.1920 |
| M35 |   | 279 | Tecklenborg, Geestemünde | 1915 | 18.5.1916 | 6.1916 | stricken 10.1921 |
| M36 |   | 280 | Tecklenborg, Geestemünde | 1915 | 3.6.1916 | 7.1916 | sunk 23.3.1918 |
| M37 |   | 281 | Tecklenborg, Geestemünde | 1915 | 24.6.1916 | 8.1916 | stricken 3.1920 |
| M38 |   | 282 | Tecklenborg, Geestemünde | 1915 | 13.7.1916 | 8.1916 | stricken 2.1922 |
| M39 |   | 601 | Vulcan, Bremen | 1915 | 27.5.1916 | 7.1916 | sunk 20.4.1918 |
| M40 |   | 602 | Vulcan, Bremen | 1915 | 15.6.1916 | 8.1916 | sunk 23.3.1918 |
| M41 |   | 603 | Vulcan, Bremen | 1915 | 5.8.1916 | 9.1916 | sunk 6.9.1918 |
| M42, 5.1944- Nymphe |   | 604 | Vulcan, Bremen | 1915 | 11.8.1916 | 9.1916 | stricken 3.1920, mobilized by French navy 1939 (AD204), captured from France 1940, minelayer 5.1944, scuttled 4.1945 |
| M43 |   | 141 | Atlaswerke, Bremen | 1915 | 7.5.1916 | 6.1916 | stricken 10.1921 |
| M44 |   | 142 | Atlaswerke, Bremen | 1915 | 4.6.1916 | 8.1916 | stricken 10.1921 |
| M45 |   | 367 | Neptun, Rostock | 1916 | 8.7.1916 | 8.1916 | stricken 10.1921 |
| M46 |   | 368 | Neptun, Rostock | 1916 | 19.8.1916 | 9.1916 | stricken 12.1922 |
| M47 |   | 369 | Neptun, Rostock |   | 19.8.1916 | 10.1916 | sunk 8.6.1917 |
| M48 |   | 370 | Neptun, Rostock |   | 9.9.1916 | 10.1916 | stricken 9.1921, to Argentina (M1 Bathurst) |
| M49 |   | 371 | Neptun, Rostock |   | 30.9.1916 | 11.1916 | sunk 7.5.1917 |
| M50, 11.1937- Brommy, 10.1940- M550 |   | 385 | Seebeck, Geestemünde |   | 19.8.1916 | 9.1916 | minesweeping boat depot ship 11.1937, minesweeper 10.1940, sunk 15.6.1944 |
| M51 |   | 386 | Seebeck, Geestemünde |   | 10.9.1916 | 10.1916 | stricken 9.1921, to Argentina (M2 Fourner) |
| M52 |   | 387 | Seebeck, Geestemünde |   | 22.11.1916 | 11.1916 | stricken 9.1921, to Argentina (M3 Jorge) |
| M53 |   | 388 | Seebeck, Geestemünde |   | 22.11.1916 | 12.1916 | stricken 9.1921, to Argentina (M4 King) |
| M54 |   | 605 | Vulcan, Bremen |   | 14.9.1916 | 10.1916 | stricken 7.1921 |
| M55 |   | 606 | Vulcan, Bremen |   | 7.10.1916 | 11.1916 | wrecked 19.11.1917 |
| M56 |   | 607 | Vulcan, Bremen |   | 4.11.1916 | 12.1916 | sunk 9.2.1917 |
Technical data
Displacement standard, t

M27 - 44: 480

M45 - 49, 54 - 56: 486

M50 - 53: 476

Displacement full, t

M27 - 44: 507

M45 - 49, 54 - 56: 513

M50 - 53: 503

Length, m

M27 - 44: 56.1 wl 58.4 oa

M45 - 49, 54 - 56: 56.0 wl 58.3 oa

M50 - 53: 55.0 wl 58.2 oa

Breadth, m

M27 - 44, 50 - 53: 7.30

M45 - 49, 54 - 56: 7.33

Draught, m

2.25

No of shafts

2

Machinery

2 VTE, 2 Marine boilers

Power, h. p.

M27 - 49, 54 - 56: 1800

M50 - 53: 1890

Max speed, kts

M27 - 44, 50 - 53: 16.5

M45 - 49, 54 - 56: 16.3

Fuel, t

coal 115

Endurance, nm(kts)
2000(14)
Armament

M27 - 42: 2 x 1 - 105/42 Tbts L/45 C/16, 30 mines, mechanical minesweeping gear

M43 - 56: 3 x 1 - 88/42 TK L/45 C/14, 30 mines, mechanical minesweeping gear

Complement

 
Standard scale images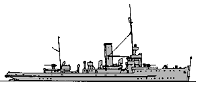 M45 1918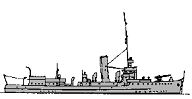 Pelikan 1936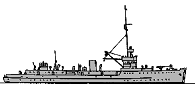 Brommy 1938
Graphics
Project history
1915 order. Further development of minesweepers of M1 class. Propulsive output and endurance were increased. Both boilers were installed in separated compartments.
Modernizations
Brommy, 11.1937: main engine was replaced by 2 MWM diesels (1440hp, 14kts)

M528, M550, 1940: were rearmed with artillery consisted of 1 x 1 - 105/42 Tbts L/45 C/16, (1 - 2) x 1 - 20/65 C/38

M528, M550, 1943: + 1 x 1 - 20/65 C/38

Nymphe, 1944: was presumably armed with 1 x 1 - 105/42 Tbts L/45 C/16, 3 x 1 - 20/65 C/38 guns.
Naval service
M27 was sunk 11.8.1916 as result of collision with German s/s Paranagua in Baltic sea; M31 was lost 7.10.1917 on mines at coast of Kurland. М36 was mined in the North Sea 23.3.1918, M39 was mined in the North Sea 20.4.1918, M40 was mined in the North Sea 23.3.1917, M41 was sunk by own mine 7.9.1918. M47 was mined in the North Sea 8.6.1917, M49 was mined in the North Sea 7.5.1917, М55 was badly damaged by gunfire of British ships, ran aground, salvaged and foundered under tow 19.11.1917 in the North Sea, M56 was mined in the North Sea 8.2.1917. After armistice M29, M30, M32, M33, M34, M35, M37, M38, M43 and M44 have sold on demolition (on conditions of the Versailles Treaty). M28 remained as part of German Navy till May, 1945. M42 has been sold to North German Lloyd. M48 was sold to private company which has transferred the ship to Argentina.

All survived ships of type 1915 to a beginning of WWII served as auxiliaries: Pelikan as tender; Brommy as minesweeper boat (R-boot) depot ship. In 1939-1940 they were reclassified as minesweepers with assignment of former numbers. In the end of 1940 numbering was changed with introduction of new numbers of 500th series.

M42 was sold to Norddeutscher Lloyd as Nymphe , later she was purchased by French private person as yacht La Nymphe and in 1939-1940 used by French Navy as auxiliary minesweeper AD204. Nymphe was requisitioned in 1944 and scuttled in April, 1945. M550 was sunk 15.6.1944 by British aircraft at Boulogne.