Photo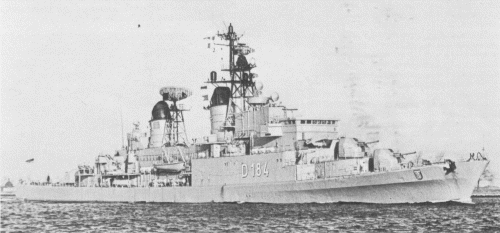 Hessen 1980  
Ships
| Name | No | Yard No | Builder | Laid down | Launched | Comp | Fate |
| --- | --- | --- | --- | --- | --- | --- | --- |
| Hamburg | D181 |   | Stülcken, Hamburg | 29.1.1959 | 26.3.1960 | 23.3.1964 | stricken 2.1994 |
| Schleswig-Holstein | D182 |   | Stülcken, Hamburg | 20.8.1959 | 20.8.1960 | 12.10.1964 | stricken 12.1994 |
| Bayern | D183 |   | Stülcken, Hamburg | 14.9.1960 | 14.8.1962 | 6.7.1965 | stricken 12.1993 |
| Hessen | D184 |   | Stülcken, Hamburg | 15.2.1961 | 4.5.1963 | 8.10.1968 | stricken 3.1990 |
Technical data
| | |
| --- | --- |
| Displacement standard, t | 3340 |
| Displacement full, t | 4330 |
| Length, m | 128.0 wl 133.7 oa |
| Breadth, m | 13.4 |
| Draught, m | 5.20 |
| No of shafts | 2 |
| Machinery | 2 sets Wahodag geared steam turbines, 4 Wahodag boilers |
| Power, h. p. | 72000 |
| Max speed, kts | 36 |
| Fuel, t | oil 800 |
| Endurance, nm(kts) | 6000(13) |
| Armament | 4 x 1 - 100/55 Mle 1953, 4 x 2 Breda-Bofors type 106, 4 x 1 - 533 TT, 2 x 4 - 375 Bofors ASWRL, 2 DCR (12), 60 - 80 mines |
| Electronic equipment | LW-02, DA-02, Kelvin Hughes 14/9, 4x M45 radars, 1BV sonar, WLR-6 ECM suite |
| Complement | 244 |
Standard scale images

Hamburg 1964

Hamburg 1980
Graphics
Project history
Originally the German Navy wanted twelve Type 101 destroyers and, in fact, ordered them in August 1957, but it transpired that they could not be built on the planned displacement of 2500t. So the Western European Union by a post factum decision raised the displacement to 6000t.
Modernizations
1976, Hamburg, Hessen; 1977, Bayern; 1979, Schleswig-Holstein under 101A type: - 1 x 1 - 100/55 (No3), LW-02, DA-02, 1x M45 radars; + 2 x 2 Exocet MM38 SSM (4 MM38), LW-04, DA-08, SGR-103 radars, 2x SCLAR decoy RL; the boilers were modified to bum light oil. and the lattice mainmast was removed.

1978, all: enclosed bridge was fitted.
Naval service
No significant events.