Photo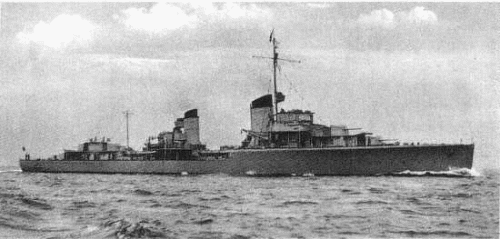 Z1 Leberecht Maas 1937
Ships
| Name | No | Yard No | Builder | Laid down | Launched | Comp | Fate |
| --- | --- | --- | --- | --- | --- | --- | --- |
| Z1 Leberecht Maass |   | 242 | Deutsche Werke, Kiel | 10/1934 | 18.8.1935 | 2/1937 | sunk 22.2.1940 |
| Z2 Georg Thiele |   | 243 | Deutsche Werke, Kiel | 10/1934 | 18.8.1935 | 2/1937 | sunk 13.4.1940 |
| Z3 Max Schultz |   | 244 | Deutsche Werke, Kiel | 1/1935 | 30.11.1935 | 4/1937 | sunk 22.2.1940 |
| Z4 Richard Beitzen |   | 245 | Deutsche Werke, Kiel | 1/1935 | 30.11.1935 | 5/1937 | surrendered 5.1945, to UK 12.1945, BU 1947 |
Technical data
Displacement standard, t

2232

Displacement full, t

3156

Length, m

114.0 wl 119.0 oa

Breadth, m

11.3

Draught, m

4.23

No of shafts

2

Machinery

2 sets Deschimag geared steam turbines, 6 Wagner boilers

Power, h. p.

70000

Max speed, kts

38.2

Fuel, t

oil 715

Endurance, nm(kts)
1825(19)
Armament

5 x 1 - 128/42 SK C/34, 2 x 2 - 37/80 SK C/30, 6 x 1 - 20/65 C/30, 2 x 4 - 533 TT (16), 4 DCT (18), 60 mines

Electronic equipment
GHG hydrophone
Complement

Z1: 338

Z2 - 4: 315
Standard scale images

Z1 Leberecht Maass 1939

Z1 Leberecht Maass 1939
Graphics
Project history
Works over rigorous destroyer have begun in Germany in 1932. In reply to the French ships having 4-5 130mm or 5 138mm guns, 127mm calibre have been chosen: in the presence of 4 guns displacement should make 1500t. Under the personal order of admiral Roeder ship received fifth gun and triple TTs were replaced by quadruple ones. As a result standard displacement has exceeded 2000t though officially declared was only 1625t. Order for the first 4 destroyers (type 1934) has been given out 1.4.1934, long before official denunciation of the Versailles limitation, which they considerably exceeded. In 1934-1935 12 more destroyers of type 1934А were ordered.

The internal arrangement has been borrowed type 1923, and artillery placing repeated that on French leaders of Le Fantasque class. The considerable attention was given to the air defence weapons presented by new 37mm/83 semiautomatic guns in twin stabilized mounts. Destroyers of 1934 type had all-welded hulls gathered on the cross-section scheme, high funnels and massive superstructures that led to considerable top weight. Ships had bridges with the rounded face, subsequently that was replaced by rectangular ones. Seagoing capacities and manoeuvrability of the ships were valued as rather mediocre. Prominent feature was machinery using steam with high parameters. Ships were equipped with Wagner boilers (70atm, 460°C) and Deschimag turbines. Extreme unreliability of machinery significantly reduced fighting capability of the ships. Also destroyers were equipped with cruising turbines which have appeared unsuccessful and further were not fitted. Auxiliary machinery worked on high parameters steam that has led to raised fuel rate and sharp decrease in an endurance. It was especially showed during capture of Narvik in April, 1940 and became a cause of loss of many ships.
Modernizations
1937, all: hulls were strengthened, length was 114.4 wl 119.3 oa

1940, Z4 Richard Beitzen: + S-Gerät sonar

early 1941, Z4: - 6 x 1 - 20/65; + 6 x 1 - 20/65 C/38

1941 - 1942, Z4: - 2 x 1 - 20/65; + 1 x 4 - 20/65 C/38, FuMO 24 radar

early 1944, Z4: stem was reconstructed, length oa achieved 121.3 m.; + FuMO 63K radar, FuMB 6 Palau ECM suite
Naval service
Z1 Leberecht Maass and Z3 Max Schultz were lost 22.2.1940 in the North Sea: former was sunk by mistake by German bomber, latter was sunk on British mines. 13.4.1940 in an Ufut-fjord out-of-ammunition Z2 Georg Thiele was blown up by crew.

Z4 Richard Beitzen was BU in 1949.