Ships
| Name | No | Yard No | Builder | Laid down | Launched | Comp | Fate |
| --- | --- | --- | --- | --- | --- | --- | --- |
| Graf Zeppelin |   | 252 | Deutsche Werke, Kiel | 28.12.1936 | 8.12.1938 | --- | suspended 30.1.1943, scuttled 25.4.1945 |
| "B" |   | 555 | Germaniawerft, Kiel | 1938 | --- | --- | suspended 19.9.1939, BU incomplete 2.1940 |
Technical data
| | |
| --- | --- |
| Displacement standard, t | 28090 |
| Displacement full, t | 33500 |
| Length, m | 250.0 wl 262.5 oa |
| Breadth, m | 31.5 wl 36.2 fd |
| Draught, m | 8.50 deep load |
| No of shafts | 4 |
| Machinery | 4 sets Brown-Boveri geared steam turbines, 16 La Mont boilers |
| Power, h. p. | 200000 |
| Max speed, kts | 33.8 |
| Fuel, t | oil 6750 |
| Endurance, nm(kts) | 8000(19) |
| Armour, mm | belt: 100 - 60, main deck: 40, slopes 60, flight deck: 20, casemates: 30, CT: 150 - 30 |
| Armament | 8 x 2 - 149/52 SK C/28, 6 x 2 - 105/60 SK C/33, 11 x 2 - 37/80 SK C/30, 2 x 4 - 20/65 C/38, 10 x 2 - 20/65 C/38, 41 - 43  aircraft (Bf109T fighters, Ju87C, Fi 167 diving bombers) |
| Electronic equipment | 3x FuMO 21, FuMO 25 radars |
| Complement | 1760 + flight personnel |
Air group
| Year | Fighters | bombers |
| --- | --- | --- |
| 1940 (planned) | 30 Bf109T | 12 Ju87C |
Standard scale images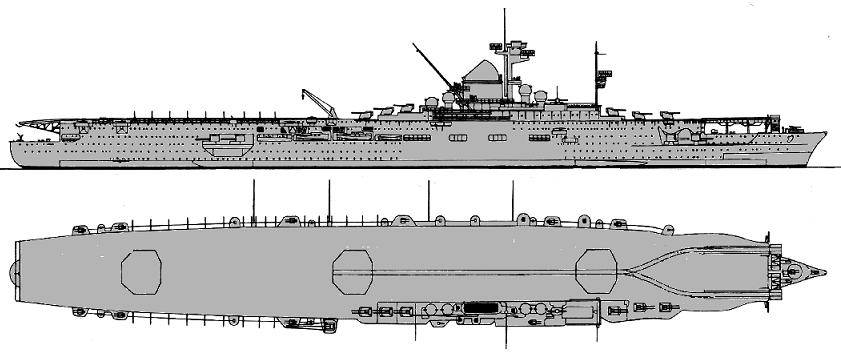 Graf Zeppelin
Aircraft facilities
(fd - 7,290 m², ha - 5,648 m² / 31,968 m³): Flight deck: 243.0 x 30.0 m. Upper hangar: 183.0 x 16.0 x 5.66 m, lower hangar: 170.0 x 16.0 x 5.66 m. Three lifts, each (15.2 x 14.3 m, 6.5 t). There were 2 catapults of K-252 type. Aircraft fuel stowage: 330 000 l.
Project history
Though Germany did not manage to complete any aircraft carrier, works on these ships were conducted intensively enough. First aircraft carrier under a letter "A", subsequently Graf Zeppelin, has been laid down on Deutsche Werke in Kiel and launched in 1938, on her place aircraft carrier "B" was laid. Under the concept these ships intended for actions on enemy's communications as a part of battle groups together with battleships. To a beginning of war availability of Graf Zeppelin made 85%, but 29.4.1940 completion have suspended. Building of the second ship was suspended 19.9.1939, and hull, built to an upper deck, was handed over on demolition. 13.5.1942 resumption of Graf Zeppelin was ordered, ship was towed to Kiel, where she received new asymmetrical bulges, designed speed was decreased to 33.8kts. Construction was again halted 30.1.1943 and in April ship was towed to Stettin. Incomplete ship (with 92% availability) was scuttled by Germans in January, 1945. Soviet engineers salvaged her in Summer 1945. She was commissioned by Soviet Navy 19.8.1945 but never completed, 16.8.1947 used as target for torpedo bombers and 18.8.1947 sunk by destroyer Slavnyy and MTB TK-503.
Ship protection
Main belt protected the citadel and was 80mm thick (100mm abreast magazines), additional 60mm belt closed a hull between citadel and aft bulkhead of steering gear compartment, belts were closed by 20mm bulkheads. There were 20mm longitudinal anti-torpedo bulkheads and bulges. Main 40mm deck was connected with lower part of main belt by 60mm slopes, aft part of main deck to steering gear compartment was 20mm thick. Flight deck had 20mm armor (45mm over magazines). Casemates and shields had 30mm protection. CT had 150mm sides and 30mm roof.