Ships
| Name | No | Yard No | Builder | Laid down | Launched | Comp | Fate |
| --- | --- | --- | --- | --- | --- | --- | --- |
| Elbe (ex-Potsdam) |   | 497 | Blohm & Voss, Hamburg // Blohm & Voss, Kiel | 1934 | 16.1.1935 | 6.1936 // --- | cancelled 2.2.1943, accommodation ship |
| Jade (ex-Gneisenau) |   | 893 | A G Weser, Bremen // KMW Wilhelmshaven | 1934 | 17.5.1935 | 1.1936 // --- | cancelled 25.11.1942, personnel transport |
Technical data
Displacement standard, t

Elbe: 17527

Jade: 18160

Displacement full, t
Elbe: 23500
Length, m

Elbe: 189.0 wl 203.0 oa

Jade: 191.0 wl 203.0 oa

Breadth, m

26.8 wl 27.0 fd

Draught, m

8.85 deep load

No of shafts

2

Machinery

Elbe: 2 electric motors, 2 Blohm & Voss / SSW turbine-generators, 4 Benson boilers

Jade: 2 sets Deschimag geared steam turbines, 4 Wagner boilers

Power, h. p.

26000

Max speed, kts

21

Fuel, t

oil 4570

Endurance, nm(kts)
9000(19)
Armour, mm
flight deck: 20, hangar sides: 15 - 10
Armament

6 x 2 - 105/60 SK C/33, 5 x 2 - 37/80 SK C/30, 8 x 4 - 20/65 C/38, 24 aircraft (Bf109T fighters, Ju87C, Fi 167 diving bombers)

Electronic equipment
3x FuMO 21 radars
Complement
883 - 900
Air group
| Year | Fighters | diving bombers |
| --- | --- | --- |
| 1943 (planned) | 12 Bf109T | 12 Ju87C |
Standard scale images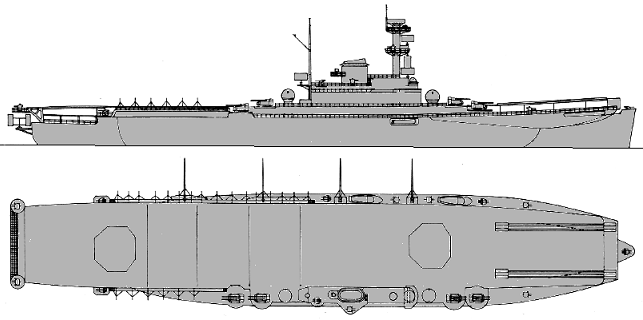 Elbe
Aircraft facilities
(fd - 5,022 m², ha - 2,664 m² / 15,078 m³): Flight deck: 186.0 x 27.0 m. Hangar: 148.0 x 18.0 x ? m. Two lifts, each (15.2 x 14.3 m, 6.5 t). There were 2 catapults of K-252 type. Aircraft fuel stowage: 100 t.
Project history
Decision to convert passenger liners Potsdam and Gneisenau to aircraft carriers was dated from May 1942, works on Potsdam started in December but they were cancelled in February 1943 and ship was used as accommodation. She was taken by Britain in June 1946 and renamed Empire Fowey. Works on Gneisenau never really started, she was reclassified as personnel transport and sunk by mine 2.5.1943 .
Ship protection
Flight deck would had 20mm and hangar sides 15-10mm protection. There was primitive anti-torpedo protection consisted of bulges and thin bulkheads.