Photo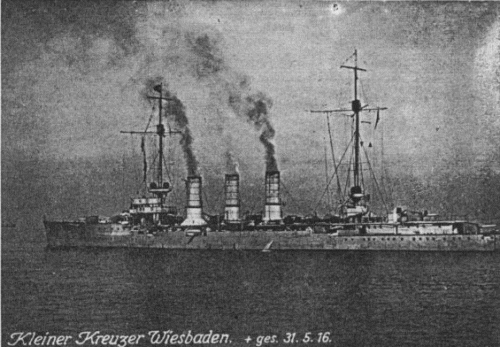 Wiesbaden 1915
Ships
| Name | No | Yard No | Builder | Laid down | Launched | Comp | Fate |
| --- | --- | --- | --- | --- | --- | --- | --- |
| Wiesbaden |   | 357 | Vulcan, Stettin | 1913 | 30.1.1915 | 23.8.1915 | sunk 1.6.1916 |
| Frankfurt |   | 40 | KW Kiel | 1913 | 20.3.1915 | 20.8.1915 | interned 11.1918, beached 21.6.1919 |
Technical data
Displacement normal, t

5180

Displacement full, t

6601

Length, m

145.3 oa 141.7 wl

Breadth, m

13.9

Draught, m

6.06 deep load

No of shafts

2

Machinery

Frankfurt: 2 Marine steam turbines, 14 Marine boilers

Wiesbaden: 2 sets Marine geared / hydraulic geared steam turbines, 12 Marine boilers

Power, h. p.

31000

Max speed, kts

27.5

Fuel, t

coal 1280 + oil 470

Endurance, nm(kts)

4800(12)

Armour, mm

belt: 60 - 18, deck: 40 - 20, slopes: 60 - 40, glacises: 100, CT: 100, shields: 50

Armament

8 x 1 - 149/42 SK L/45 C/09, 4 x 1 - 52/52 SK L/55 C/03, 2 - 500 TT (beam), 2 x 1 - 500 TT, 120 mines

Complement

474
Standard scale images

Frankfurt 1916
Graphics
Project history
These two cruisers belonged to the 1912 programme. Their keels were laid at the end of 1913, but completion was delayed when higher priority was given to other work after war broke out. However their working up period was short and they were soon serving with the Scouting Forces. Wiesbaden differed in having hydraulic drive on one shaft and a geared cruising turbine on the other.
Ship protection
Main belt was 60mm thick abreast machinery and 18mm at ship ends, it was closed fwd by 40mm bulkhead. 40mm protective deck above machinery was connected with the belt by 60mm slopes, ship ends were protected by 20mm deck with 40mm slopes. CT had 100mm sides and 20mm roof, guns had 50mm shields and 20mm protection of ammunition hoists.
Modernizations
1915, both: - 4 x 1 - 52/52; + 2 x 1 - 88/45 SK L/45 C/13
Naval service
Wiesbaden was sunk during the Battle of Jutland, 1 June 1916. Frankfurt served with the Scouting Forces and was interned at Scapa Flow after the armistice. The attempt to scuttle her failed, and she was beached. She was handed over to the US Navy and sunk as bombing trials target on 18 July 1921 off Cape Henry, Virginia.