NAVYPEDIA
Ships
| Name | No | Yard No | Builder | Laid down | Launched | Comp | Fate |
| --- | --- | --- | --- | --- | --- | --- | --- |
| Seeadler (ex-Kaiseradler) |   |   | Danzig KW | 1890 | 2.2.1892 | 27.6.1892 | gunboat 5.1914, hulk 1914 |
| Condor |   | 82 | Blohm & Voss, Hamburg | 1891 | 23.2.1892 | 9.12.1892 | gunboat 1.1913, hulk 1916 |
| Cormoran |   |   | Danzig KW | 1890 | 17.5.1892 | 25.7.1893 | gunboat 2.1913, scuttled 28.9.1914 |
Technical data
| | |
| --- | --- |
| Displacement normal, t | 1612 |
| Displacement full, t | 1864 |
| Length, m | 82.6 oa 79.6 wl |
| Breadth, m | 10.5 |
| Draught, m | 4.42 mean 5.35 deep load |
| No of shafts | 2 |
| Machinery | 2 HTE, 4 cylindrical boilers |
| Power, h. p. | 2800 |
| Max speed, kts | 15.5 |
| Fuel, t | coal 315 |
| Endurance, nm(kts) | 2950(9) |
| Armament | 8 x 1 - 105/32 SK L/35 C/91, 2 x 1 - 350 TT |
| Complement | 161 |
Standard scale images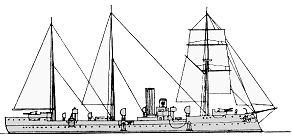 Cormoran 1895
Project history
The Bussard class were intended for colonial work, with their barquentine rig, ram bows and wooden sheathing.
Modernizations
1900s, all: + (0 - 5) x 5 - 37/27 RV L/30
Naval service
Seeadler in 1899 and Cormoran in 1908 were rebuilt and re-rigged as topsail schooner. The bridges were also enlarged. Seeadler was used as mine hulk in the Jade when she blew up 19.4.1917. Cormoran was scuttled by own crew 28.9.1914 at Tsingtao to avoid capture by Japanese.
© 2007-2021 - navypedia.org