Photo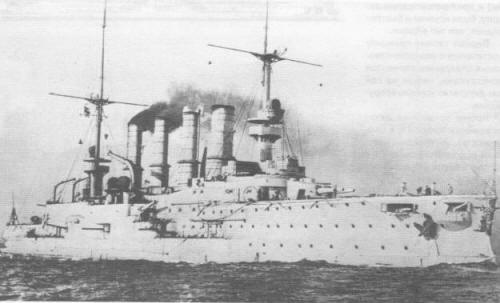 Gneisenau
Ships
| Name | No | Yard No | Builder | Laid down | Launched | Comp | Fate |
| --- | --- | --- | --- | --- | --- | --- | --- |
| Scharnhorst |   | 175 | Blohm & Voss, Hamburg | 1905 | 22.3.1906 | 24.10.1907 | sunk 8.12.1914 |
| Gneisenau |   | 144 | Weser, Bremen | 1904 | 14.6.1906 | 6.3.1908 | sunk 8.12.1914 |
Technical data
| | |
| --- | --- |
| Displacement normal, t | 11616 |
| Displacement full, t | 12985 |
| Length, m | 144.6 oa 143.8 wl |
| Breadth, m | 21.6 |
| Draught, m | 7.96 mean 8.37 deep load |
| No of shafts | 3 |
| Machinery | 3 VTE, 18 Marine boilers |
| Power, h. p. | 26000 |
| Max speed, kts | 22.5 |
| Fuel, t | coal 2000 |
| Endurance, nm(kts) | 5120(12) |
| Armour, mm | belt: 150 - 80, deck: 60 - 35 with 55 - 40mm slopes, main turrets: 170, casemates: 150, CT: 200 |
| Armament | 2 x 2 - 209/37 SK L/40 C/04, 4 x 1 - 209/37 SK L/40 C/04, 6 x 1 - 149/37 SK L/40 C/97, 18 x 1 - 88/32 SK L/35 C/01, 4 x 1 - 7.9/79, 4 - 450 TT (1 bow, 2 beam, 1 stern) |
| Complement | 764 |
Standard scale images

Gneisenau 1909
Graphics
Project history
Germany's last and best armoured cruisers were still basically bigger and faster Roons. With an almost identical armour scheme they carried twice the number of heavy guns (the extra weapons were disposed in casemates at the comers of the midships citadel at upper deck level) though with fewer secondary guns. However, they compare less well with their British contemporaries on the China Station in 1914: Minotaur and Defence which admittedly were slightly bigger, carried an armament of 4-9.2in (larger, though fewer than the German guns), and 8-7.5in, far better distributed than the German armament, in hulls with much the same protection and speed.
Ship protection
Main belt was 150mm between main barbettes and 80mm abreast them and was backed by 50mm wood. 35mm protective deck was connected with its lower edge by 40mm slopes, outside citadel protective deck had turtleback form and had 60mm flat and 55mm slopes. Fwd CT had 200m sides and 30mm roof, aft CT had 50mm sides and 20mm roof. Main turrets had 170mm sides and 30mm crowns, 4 main guns were protected by 150mm sides and 40mm crowns, 15cm guns were protected by 150mm casemates with 80mm shields, closed by 150mm bulkheads.
Modernizations
None.
Naval service
Scharnhorst and Gneisenau were sunk 8.12.1914 off Falklands by gunfire of British battlecruisers Invincible and Inflexible.