Photo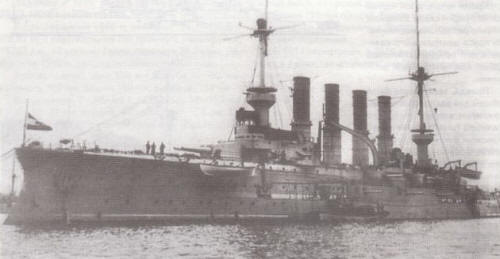 Roon
Ships
| Name | No | Yard No | Builder | Laid down | Launched | Comp | Fate |
| --- | --- | --- | --- | --- | --- | --- | --- |
| Roon |   | 28 | Kiel KW | 1902 | 27.6.1903 | 5.4.1906 | barrack ship 1916 |
| Yorck |   | 167 | Blohm & Voss, Hamburg | 1903 | 14.5.1904 | 21.11.1905 | sunk 4.11.1914 |
Technical data
| | |
| --- | --- |
| Displacement normal, t | 9533 |
| Displacement full, t | 10266 |
| Length, m | 127.8 oa 127.3 wl |
| Breadth, m | 20.2 |
| Draught, m | 7.73 mean 7.76 deep load |
| No of shafts | 3 |
| Machinery | 3 VTE, 16 Dürr boilers |
| Power, h. p. | 19000 |
| Max speed, kts | 21 |
| Fuel, t | coal 1570 + oil 207 |
| Endurance, nm(kts) | 4200(12) |
| Armour, mm | belt: 100 - 80, deck: 60 - 40 with 50 - 40mm slopes, main turrets: 150, secondary turrets: 100, casemates: 100, CT: 150 |
| Armament | 2 x 2 - 209/37 SK L/40 C/04, 10 x 1 - 149/37 SK L/40 C/97, 14 x 1 - 88/32 SK L/35 C/01, 4 x 1 - 7.9/79, 4 - 450 TT (1 bow, 2 beam, 1 stern) |
| Complement | 633 |
Standard scale images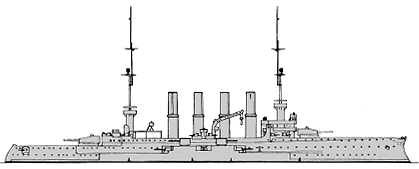 Yorck 1914
Graphics
Project history
Apart from their four funnels this class were little more than repeats of the previous design, though with minor adjustments to the armour. Like previous classes they were not very well protected, and were not considered particularly successful in service.
Ship protection
Main belt was 100mm between main barbettes and 80mm abreast them and was backed by 55mm wood. 40mm protective deck was connected with its lower edge by 40mm slopes, outside citadel protective deck had turtleback form and had 60mm flat and 50mm slopes. Fwd CT had 150m sides and 30mm roof, aft CT had 80mm sides and 20mm roof. Main turrets had 150mm sides and 30mm crowns, 4 15cm guns were placed in the turrets with 100mm sides, others were protected by 100mm casemates with 80mm shields, closed by 100mm bulkheads.
Modernizations
None.
Naval service
After Yorck was lost 4.11.1914 on German mines in the Jade, Roon soon followed the earlier armoured cruisers into retirement as a disarmed accommodation ship in 1916. A project to convert her into a seaplane carrier with 4 seaplanes, carried in a hangar aft, and 6-150mm and 6-88mm AA guns never materialized.