Photo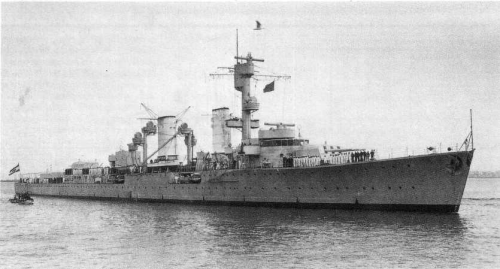 Karlsruhe 1932  
Ships
| Name | No | Yard No | Builder | Laid down | Launched | Comp | Fate |
| --- | --- | --- | --- | --- | --- | --- | --- |
| Königsberg |   | 108 | KMW Wilhelmshaven | 12.4.1926 | 26.3.1927 | 17.4.1929 | sunk 10.4.1940 |
| Karlsruhe |   | 207 | Deutsche Werke, Kiel | 27.7.1926 | 20.8.1927 | 6.11.1929 | sunk 9.4.1940 |
| Köln |   | 116 | KMW Wilhelmshaven | 7.8.1926 | 23.5.1928 | 15.1.1930 | sunk 30.3.1945 |
Technical data
Displacement standard, t

6000

Displacement full, t

7700

Length, m

169.0 wl 174.0 oa

Breadth, m

15.2

Draught, m

5.56 normal 6.28 max

No of shafts

2

Machinery

Königsberg: CODAS: 2 sets Schichau geared steam turbines, 6 Marine boilers / 2 MAN 4-stroke 10-cylinder double action diesels

Karlsruhe: CODAS: 2 sets Germania geared steam turbines, 6 Marine boilers / 2 MAN 4-stroke 10-cylinder double action diesels

Köln: CODAS: 2 sets Blohm & Voss geared steam turbines, 6 Marine boilers / 2 MAN 4-stroke 10-cylinder double action diesels

Power, h. p.

65000 / 1800

Max speed, kts

32 / 10

Fuel, t

oil 1145, diesel oil 261

Endurance, nm(kts)
7300(17)
Armour, mm
belt: 65 - 50, bulkheads: 70, deck: 40 - 20, anti-torpedo bulkhead: 15, turrets: 30 - 20, CT: 100 - 30
Armament

Königsberg: 3 x 3 - 149/57 SK C/25, 4 x 3 - 500 TT, 120 mines

Karlsruhe: 3 x 3 - 149/57 SK C/25, 2 x 1 - 88/45 SK C/13, 4 x 3 - 500 TT, 120 mines

Köln: 3 x 3 - 149/57 SK C/25, 4 x 1 - 88/45 SK C/13, 4 x 3 - 500 TT, 120 mines

Complement

850
Standard scale images

Karlsruhe 1939

Köln 1943
Graphics
Project history
Working out of design of cruiser within limits of Versailles Treaty limitations has begun in 1924. At the limited displacement the basic thrust became on armament and speed. As result cruisers differed by very light construction: all-welded hulls have been lightweighted to a limit, and longitudinal strength calculation joined even superstructures. At the same time, the L/B ratio exceeded 11:1, that aggravated problems with durability. As a result they had poor seaworthiness. Cruisers were armed with new 150mm/60 guns C/25 (weight of a shell of 45.5kg, a firing range of 25.7km). From three triple turrets two took places aft shifted from centreline ("B" turret to port, "C" to starboard) for providing of the maximum fwd arcs of fire. Side was covered by 50mm belt beginning before fore and ending after aft turrets. 10mm slope, connecting with its lower edge, became 15mm internal anti-torpedo bulkhead. Belt was closed at ends by 70mm transverse bulkheads, and by flat 20mm armoured deck at upper edge. Turret faces had 30mm armour, roofs, rears and sides had 20mm protection.

"K" class cruisers were first-ever combat ships with combined diesel-turbine machinery. Each of two shafts could be driven by turbine unit or MAN diesel. The latter ensured 10kts speed, and when turbines worked, diesels were disconnected with shafts. Steam was produced by 6 Schultz-Thornycroft boilers (4 big and 2 small). As a whole machinery has appeared not too successful, besides, it held more than half of hull length that was negatively reflected in damage tolerance.

Königsberg was laid down as "cruiser B" or "Ersatz Thetis", Karlsruhe as "C" ("Ersatz Medusa") and Köln as "D" or "Ersatz Arcona". They were equipped with catapults and could carry 2 seaplanes, but had no hangars.

In late 1930s plans have appeared of modernization of "K" class cruisers, durability directed on raise. Really in 1938-1939 works were conducted only on Karlsruhe, seriously damaged by typhoon on Pacific. Along all side the additional plating was made, which has increased breadth on 1.6m. Armoured belt thus has appeared internal, outside above it cruiser received 14mm outer upper belt, the upper deck received 16mm protection. Displacement has increased approximately on 700t, speed has fallen on 2kts.
Ship protection
50mm belt extended between end turrets and closed by 70mm bulkheads fwd from fore and aft from aft turrets. This belt was connected with 15mm anti-torpedo longitudinal bulkhead by 10mm slope. 20mm flat main deck was connected with upper edge of the belt, its thickness increased to 40mm over magazines. Turrets had 30mm faces and 20mm sides, rears and roofs. Shell hoists had 30mm armor. CT had 100-50mm sides and 30mm roof. There was 20mm fore bulkhead.
Modernizations
Summer 1929, Königsberg: + 2 x 2 - 88/72 SK C/25

late 1929, Königsberg: - 2 x 2 - 88/72; + 2 x 1 - 88/45 SK C/13

1934, Königsberg, Karlsruhe: - 4 x 3 - 500 TT; + 1 x 1 - 88/45 SK C/13, 4 x 2 - 37/80 SK C/30, 4 x 1 - 20/65 C/30, 4 x 3 - 533 TT

1934, Köln: - 1 x 1 - 88/45, 4 x 3 - 500 TT; + 4 x 2 - 37/80 SK C/30, 4 x 1 - 20/65 C/30, 4 x 3 - 533 TT

12/1934 - late 1935, all: - 3 x 1 - 88/45; + 3 x 2 - 88/72 SK C/32, 1 catapult, 2 seaplanes (He 60)

Spring 1938, Köln: - 1 catapult with seaplanes

(8/1938 - 11.1939), Karlsruhe: hull was strengthened by additional plating, original outer belt became inner ones, additional upper outer belt had 14mm thickness, upper deck received 16mm protection. Breadth was increased to 16.8m, displacement to 6730 / 8350t, maximal speed felt to 30kts, endurance to 3340(18)nm.

late 1940, Köln: - 2 x 3 - 533 TT

1941, Köln: + flight deck for Fl 265 gyroplane, FuMO 21 radar

late 1942, Köln: - 2 x 2 - 37/80, 4 x 1 - 20/65, flight deck; + 2 x 4 - 20/65 C/38, 2 x 1 - 20/65 C/38

1944, Köln: presumably + FuMO 25 radar, FuMB 4 Sumatra, FuMB 6 Palau ECM suites
Naval service
All actively operated at coast of Spain in 1936-1938. Königsberg 9.4.1940 was damaged by Norwegian coastal batteries and 10.4.1940 sunk by British Skua carrier diving bombers at Bergen. Karlsruhe 9.4.1940 was torpedoed by British submarine Truant off southern coast of Norway and sunk by torpedo from torpedo boat Greif some hours later. Köln 13.12.1944 was damaged by British Beaufighter bombers at Oslo, 30.4.1945 she was destroyed in dock during raid of US aircraft to Kiel by B-24 bombers.