Photo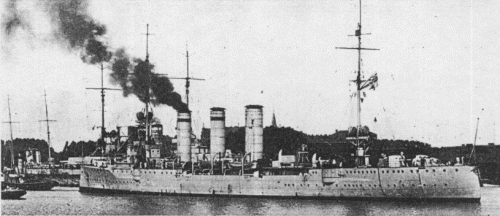 Kolberg 1910
Ships
| Name | No | Yard No | Builder | Laid down | Launched | Comp | Fate |
| --- | --- | --- | --- | --- | --- | --- | --- |
| Kolberg |   | 814 | Schichau, Danzig | 1908 | 14.11.1908 | 21.6.1910 | discarded 11.1919, to France (Colmar) |
| Mainz |   | 288 | Vulcan, Stettin | 1907 | 23.1.1909 | 1.10.1909 | sunk 28.8.1914 |
| Cöln |   | 141 | Germaniawerft, Kiel | 1908 | 5.6.1909 | 16.6.1911 | sunk 28.8.1914 |
| Augsburg |   | 34 | KW Kiel | 1908 | 10.7.1909 | 1.10.1910 | test ship till 1912, TS 1912-1914, discarded 11.1919 |
Technical data
Displacement normal, t

4362

Displacement full, t

Kolberg: 4915

Mainz: 4889

Cöln: 4864

Augsburg: 4882

Length, m

130.5 oa 130.0 wl

Breadth, m

14.0

Draught, m

Kolberg: 5.58 deep load

Mainz: 5.60 deep load

Cöln: 5.73 deep load

Augsburg: 5.45 deep load

No of shafts

Kolberg, Augsburg: 4

Mainz, Cöln: 2

Machinery

Kolberg: 4 Melms & Pfenniger steam turbines, 15 Marine boilers

Mainz: 2 AEG-Curtiss steam turbines, 15 Marine boilers

Cöln: 2 Germania steam turbines, 15 Marine boilers

Augsburg: 4 Parsons steam turbines, 15 Marine boilers

Power, h. p.

Kolberg, Augsburg: 19000

Cöln, Mainz: 20200

Max speed, kts

Kolberg, Augsburg: 25.5

Mainz, Cöln: 26

Fuel, t

Kolberg: coal 970

Mainz: 1010

Cöln: 960

Augsburg: 940

Endurance, nm(kts)

Kolberg: 3250(14)

Mainz: 3630(14)

Cöln, Augsburg: 3500(14)

Armour, mm

steel / Krupp steel - deck: 40 - 20, slopes: 80 - 50, glacises: 100, CT: 100, shields: 50

Armament

12 x 1 - 105/42 SK L/45 C/06, 4 x 1 - 52/52 SK L/55 C/03, 2 - 450 TT (beam), 100 mines

Complement

367
Standard scale images

Kolberg 1913
Graphics
Project history
Belonging to the 1906-7 programme these four cruisers marked an important step in the steady development of German light cruisers. Displacement rose about 20 per cent and speed by about 1.5kts compared with the previous Dresden class. Speed was bought by a simple increase in displacement to allow for heavier machinery and all four were equipped with competitive turbine systems: Kolberg Melms-Pfenninger, Mainz AEG-Curtiss, Coin Gerraania, Augsburg Parsons turbines. Maximum coal capacity varied.
Ship protection
40mm protective deck with 80mm slopes protected machinery, outside machine spaces deck had turtleback form with 20mm flat and 50mm slopes. Engines had 100mm glacises. CT had 100mm sides and 20mm roof, guns had 50mm shields.
Modernizations
1917, Kolberg, Augsburg: - 12 x 1 - 105/42, 4 x 1 - 52/52; + 6 x 1 - 149/42 SK L/45 C/09

1918, Kolberg, Augsburg: + 2 x 1 - 88/45 SK L/45 C/13, 2 x 1 - 500 TT
Naval service
Mainz and Cöln were sunk by British battle cruisers on 28 August 1914 in the North Sea while on patrol. Augsburg was ceded to Japan as war reparations and was scrapped in 1922 at Dordrecht. Kolberg served with the High Seas Fleet in the war, after the war she became the French Colmar and was condemned in 1927 and broken up in 1929 at Brest.