Photo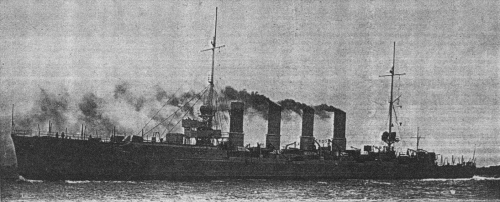 Rostock 1914
Ships
| Name | No | Yard No | Builder | Laid down | Launched | Comp | Fate |
| --- | --- | --- | --- | --- | --- | --- | --- |
| Karlsruhe |   | 181 | Germaniawerft, Kiel | 1911 | 11.11.1912 | 15.1.1914 | sunk 4.11.1914 |
| Rostock |   | 560 | Howaldtswerke, Kiel | 1911 | 12.11.1912 | 5.2.1914 | sunk 1.6.1916 |
Technical data
| | |
| --- | --- |
| Displacement normal, t | 4900 |
| Displacement full, t | 6191 |
| Length, m | 142.2 oa 139.0 wl |
| Breadth, m | 13.7 |
| Draught, m | 6.20 deep load |
| No of shafts | 2 |
| Machinery | 2 Marine steam turbines, 14 Marine boilers |
| Power, h. p. | 26000 |
| Max speed, kts | 27.8 |
| Fuel, t | coal 1300 + oil 200 |
| Endurance, nm(kts) | 5000(12) |
| Armour, mm | belt: 60 - 18, deck: 40 - 20, slopes: 60 - 40, glacises: 100, CT: 100, shields: 50 |
| Armament | 12 x 1 - 105/42 SK L/45 C/11, 2 - 500 TT (beam), 120 mines |
| Complement | 373 |
Standard scale images

Strassburg 1912
Graphics
Project history
These two cruisers were built under the 1910 programme. Trials performances were: Karlsruhe 37,885shp = 28.5kts; Rostock 43,628shp = 29.3kts.
Ship protection
Main belt was 60mm thick abreast machinery and 18mm at ship ends, it was closed fwd by 40mm bulkhead. 40mm protective deck above machinery was connected with the belt by 60mm slopes, ship ends were protected by 20mm deck with 40mm slopes. CT had 100mm sides and 20mm roof, guns had 50mm shields and 20mm protection of ammunition hoists.
Modernizations
None.
Naval service
Karlsruhe was earmarked to replace the Dresden on the Caribbean Station and to take part in the opening ceremonies of the Panama Canal; but war broke out and she immediately began commerce raiding, sinking 17 merchant vessels totalling 76,609grt. On 4 November 1914 she sank at position 11°07' N 055°25' W after an accidental internal explosion. The survivors were saved by two German supply ships and managed to reach Germany on board the blockade runner Rio Negro.

Rostock served with the Scouting Group of the High Seas Fleet, and took part in the Battle of Jutland where she received a torpedo hit, and was finally sunk by the German torpedo boats V71 and V73 on 1 June 1916.