Photo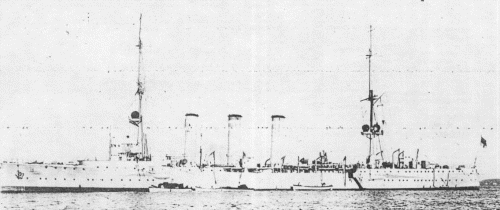 Dresden 1908
Ships
| Name | No | Yard No | Builder | Laid down | Launched | Comp | Fate |
| --- | --- | --- | --- | --- | --- | --- | --- |
| Dresden |   | 195 | Blohm & Voss, Hamburg | 1906 | 5.10.1907 | 14.11.1908 | scuttled 14.3.1915 |
| Emden |   |   | KW Danzig | 1906 | 26.5.1908 | 10.7.1909 | sunk 9.11.1914 |
Technical data
Displacement normal, t

3664

Displacement full, t

4268

Length, m

118.3 oa 117.9 wl

Breadth, m

13.5

Draught, m

5.53 deep load

No of shafts

Dresden: 4

Emden: 2

Machinery

Dresden: 4 Parsons steam turbines, 12 Marine boilers

Emden: 2 VTE, 12 Marine boilers

Power, h. p.

Dresden: 15000

Emden: 13500

Max speed, kts

Dresden: 24

Emden: 23.5

Fuel, t

Dresden: coal 860

Emden: coal 790

Endurance, nm(kts)

Dresen: 3600(14)

Emden: 3760(12)

Armour, mm

steel / Krupp steel - deck: 30 - 20, slopes: 80 - 50, glacises: 100, CT: 100, shields: 50

Armament

10 x 1 - 105/37 SK L/40 C/04, 8 x 1 - 52/52 SK L/55 C/03, 2 - 450 TT (beam)

Complement

361
Standard scale images

Dresden 1914
Graphics
Project history
These two cruisers belonged to the 1905-06 programme and had comparative machinery.
Ship protection
30mm protective deck with 80mm slopes protected machinery, outside machine spaces deck had turtleback form with 20mm flat and 50mm slopes. Engines had 100mm glacises. CT had 100mm sides and 20mm roof, guns had 50mm shields.
Modernizations
None.
Naval service
Dresden formed part of the international force which intervened in the Mexican Revolution of 1910. She was in the West Indies when war broke out: to commence her commence raiding activities she passed into the Pacific via the Magellan Straits, joined the Leipzig and finally met Admiral Graf Spee's German East Asian Squadron at Easter Island. Operating with Spee she managed to survive the Battle of the Falklands, escaped once more to the Pacific and was finally trapped by the British cruisers Kent and Glasgow and the AMC Orama at the Chilean island of Mas a Fuera, and shelled into submission on 14 March 1915. She was scuttled to avoid capture.

The famous Emden had been in Chinese and Pacific waters since 1909, playing an important role in subduing a rebellion in the German colony of Ponape (in the Carolines). When war broke out she was station ship at the German China colony of Tsingtao. To avoid being trapped there she left immediately and, on the orders of Von Spee, started independent commerce raiding. In this role she operated very succesfully in the Indian Ocean until caught by Australian cruiser Sydney in the Cocos Islands. Following a gun battle on 9 November 1914 she was beached on the reefs of North Keeling Island; the wreck was partially dismantled by a Japanese firm in the 1950s. The survivors managed to capture a schooner and a steamer and reached Mecca. After an adventurous journey across Saudi Arabia, Syria and Turkey they reached Constantinople and returned to Germany.