NAVYPEDIA Support the project with paypal
Photo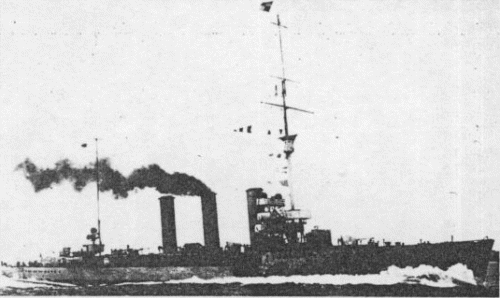 Bremse 1917
Ships
| Name | No | Yard No | Builder | Laid down | Launched | Comp | Fate |
| --- | --- | --- | --- | --- | --- | --- | --- |
| Brummer |   | 422 | Vulcan, Stettin | 1915 | 11.12.1915 | 2.4.1916 | interned 11.1918, scuttled 21.6.1919 |
| Bremse |   | 423 | Vulcan, Stettin | 1915 | 11.3.1916 | 1.7.1916 | interned 11.1918, scuttled 21.6.1919 |
Technical data
| | |
| --- | --- |
| Displacement normal, t | 4385 |
| Displacement full, t | 5856 |
| Length, m | 140.4 oa 135.0 wl |
| Breadth, m | 13.2 |
| Draught, m | 6.00 deep load |
| No of shafts | 2 |
| Machinery | 2 Marine steam turbines, 6 Marine boilers |
| Power, h. p. | 33000 |
| Max speed, kts | 28 |
| Fuel, t | coal 600 + oil 1000 |
| Endurance, nm(kts) | 5800(12) |
| Armour, mm | belt: 40, deck: 15, glacises: 100, CT: 100, shields: 50 |
| Armament | 4 x 1 - 149/42 SK L/45 C/09, 2 x 1 - 88/45 SK L/45 C/13, 2 x 1 - 500 TT, 400 mines |
| Complement | 309 |
Standard scale images

Brummer 1918
Graphics
Project history
The lessons of mine warfare in the Russo-Japanese war of 1904-5 were not really followed up in Germany. When war broke out only the two 'mine-cruisers' Albatross and Nautilus were purpose-built, although most of the light cruisers were also fitted for minelaying operations. Increasing requests for such vessels led to the decision to build two more, utilizing the turbines prepared for the Russian battlecruiser Navarin. On trials Brummer achieved 42,729shp = 28.0kts and Bremse 47,748shp = 28kts.
Ship protection
Main belt was 40mm thick abreast machinery. 15mm protective deck was connected with its upper edge. CT had 100mm sides and 20mm roof, guns had 50mm shields.
Modernizations
None.
Naval service
Both units served in their intended role during the war, were interned at Scapa Flow after the armistice, and scuttled on 21 June 1919.
© 2007-2023 - navypedia.org