Photo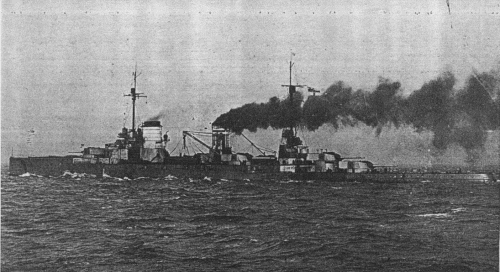 Seydlitz 1918  
Ships
| Name | No | Yard No | Builder | Laid down | Launched | Comp | Fate |
| --- | --- | --- | --- | --- | --- | --- | --- |
| Seydlitz |   | 209 | Blohm & Voss, Hamburg | 4.2.1911 | 30.3.1912 | 22.5.1913 | interned 11.1918, scuttled 21.6.1919 |
Technical data
| | |
| --- | --- |
| Displacement normal, t | 24988 |
| Displacement full, t | 28550 |
| Length, m | 200.6 oa 200.0 wl |
| Breadth, m | 28.5 |
| Draught, m | 9.09 mean 9.29 deep load |
| No of shafts | 4 |
| Machinery | 4 Parsons steam turbines, 27 Marine boilers |
| Power, h. p. | 63000 |
| Max speed, kts | 26.5 |
| Fuel, t | coal 3600 |
| Endurance, nm(kts) | 4200(14) |
| Armour, mm | belt: 300 - 100, bulkheads: 220 - 100, deck: 50 with 50mm slopes, turrets: 250 - 70, barbettes: 230 - 30, casemates: 200 - 150, CT: 350 - 80, torpedo bulkhead: 45 |
| Armament | 5 x 2 - 283/47 SK L/50 C/09, 12 x 1 - 149/42 SK L/45 C/09, 12 x 1 - 88/45 SK L/45 C/13, 4 - 500 TT (1 bow, 2 beam, 1 stern) |
| Complement | 1068 |
Standard scale images

Seydlitz 1918
Graphics
Project history
Built under the 1910-11 programme this ship was in some features an enlarged Moltke but the hull form was different and an additional weather deck was added from stem to foremast. Freeboard was 8.8-9.1m forward at normal load and elsewhere slightly less than in Moltke. GM was 3.12m and Frahm anti-rolling tanks were fitted but not so used. There were tandem rudders, the forward one being somewhat ineffective as in Moltke, and like all German battle-cruisers Seydlitz turned slowly and with considerable loss of speed. Full details of her design were obtained by the British but these appear to have had no influence whatsoever on future ships.

The main and secondary armament were arranged as in Moltke except that the fore turret was on the weather deck. The Drh LC/10 mountings were generally similar to C/08 and the initial 13.5° elevation was increased to 16° before Jutland. All turret magazines were above the shell rooms. TT were disposed as in previous battlecruisers.

There were 15 boiler and 4 engine rooms with the main turbines; boiler pressure and later use of tar oil as in the previous ships. She attained on the mile 89,740shp = 28.13kts.
Ship protection
The main belt was 300mm between end barbettes from 1.4m above to 0.4m below lwl and was tapered to 150mm at the lower edge 1.7m below lwl. Above it was tapered to 230mm at the upper deck and to 200mm at the battery port sills. Forward the armour was 120-100mm and 100mm aft. Barbettes were 230-200mm but the wing barbettes were reduced to 100mm behind the battery and all to 30mm where protected by the 300-230mm belt. The turrets had 250mm faces, 200mm sides, 210mm rears and 100-70mm roofs. The armour deck was 30mm amidships, 50mm forward and 80mm with 50mm slopes aft, while the forecastle deck was 55-25mm over the battery and the upper deck 25mm outside. The torpedo bulkhead ran between end barbettes and was 4m inboard amidships. It was 50-30mm and continued as a 30mm splinter bulkhead to the upper deck.
Modernizations
1914: - 2 x 1 - 88/45; + 2 x 1 - 88/45 SK L/45 C/13 (AA)

1916: - 10 x 1 - 88/45
Naval service
At the Dogger Bank Seydlitz was hit by 3 343mm shells, one of which (from Lion) burst as it holed the 230mm barbette of the stern turret, and armour fragments caused a fire which spread to the superfiring turret and ignited 62 complete (main and fore) charges. She was mined forward of the torpedo bulkhead on 24 April 1916 and at Jutland was hit by a torpedo from destroyer Petard or possibly Turbulent, and by 8 381mm, 6 343mm and 8 305mm shells. The worst damage was from flooding above the armour deck forward, 1.2m below lwl, caused by 5 381mm hits and aggravated by trying to steam too fast after the action of 31 May 1916. She was nearly lost, the flooding at its worst being calculated as 5329 tons with draughts of 14.1m forward and 7.4m aft and a list of 8° to port.

Seydlitz was raised at Scapa Flow for scrap in November 1928.