Photo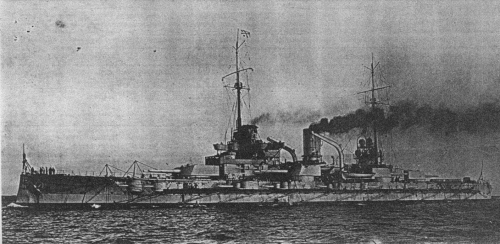 Posen 1910  
Ships
| Name | No | Yard No | Builder | Laid down | Launched | Comp | Fate |
| --- | --- | --- | --- | --- | --- | --- | --- |
| Nassau |   | 30 | Wilhelmshaven KW | 22.7.1907 | 7.3.1908 | 1.10.1909 | discarded 11.1919 |
| Westfalen |   | 163 | Weser, Bremen | 12.8.1907 | 1.7.1908 | 16.11.1909 | TS 9.1918, discarded 11.1919 |
| Rheinland |   | 287 | Vulcan, Stettin | 1.6.1907 | 26.9.1908 | 30.4.1910 | wrecked 11.4.1918, CTL, accommodation ship |
| Posen |   | 132 | Germaniawerft, Kiel | 11.6.1907 | 12.12.1908 | 31.5.1910 | discarded 11.1919 |
Technical data
| | |
| --- | --- |
| Displacement normal, t | 18873 |
| Displacement full, t | 20535 |
| Length, m | 146.1 oa 145.6 wl |
| Breadth, m | 26.9 |
| Draught, m | 8.76 |
| No of shafts | 3 |
| Machinery | 3 VTE, 12 Marine boilers |
| Power, h. p. | 22000 |
| Max speed, kts | 19.5 |
| Fuel, t | coal 2700 |
| Endurance, nm(kts) | 9400(10) |
| Armour, mm | belt: 300 - 90, bulkheads: 210 - 90, deck: 80 - 55, main turrets: 280 - 60, barbettes: 280 - 50, casemates: 160, CT: 400 - 200 |
| Armament | 6 x 2 - 283/42 SK L/45 C/07, 12 x 1 - 149/42 SK L/45 C/09, 16 x 1 - 88/45 SK L/45 C/13, 6 - 450 TT (1 bow, 4 beam, 1 stern) |
| Complement | 1008 |
Standard scale images

Nassau 1910
Graphics
Project history
The first German dreadnoughts, built under the 1906-7 programme (and that of 1907-8 for Rheinland and Posen), were flush-decked ships, easily distinguished by their goose-neck cranes. Freeboard at normal load was about 6.7m forward, 5.4m midships and 5.9m aft with GM 2.33m, and it was originally thought that bilge keels were not necessary. It was found however that their rolling was synchronous with the North Sea swell and bilge keels had to be fitted. Nassau, and particularly Westfalen, were not so satisfactory as the other two. The heavy gun turrets were arranged fore and aft on the centreline with two on either beam, a peculiar distribution which gave a broadside of only 8 guns. The beam turret mountings were Drh LC/1906 in all ships as were the centreline mountings in Nassau and Westfalen, but the other two had Drh LC/1907 here; C/1906 was a short trunk mounting with fixed working chamber while C/1907 was of long trunk type. Both allowed 20° elevation. Magazines were above shell rooms except for the centreline turrets in Nassau and Westfalen. The 15cm was on the main deck. The TT were located at bow and stern and on either beam forward and abaft the torpedo bulkhead. There were 6 boiler and 3 engine-rooms and 160 tons of tar oil were later carried for spraying on the coal in the furnaces. Boiler pressure was 16.5 kgf/cm2. Trials were prolonged. On the mile all attained 20~20.2kts with 26,244-28,117ihp.
Ship protection
The belt was 300mm between end barbettes for about 1.2m along the lwl, tapering to 160mm at the main deck and to 170mm at the lower edge 1.6m below lwl. Forward it was 80-100mm and aft 120-100mm (not reaching the stern). The barbettes were 280-200mm reduced to 80-50mm behind the battery and belt, and the turrets had 280mm faces, 220mm sides, 260mm rears and 90-60mm roofs. The armour deck was 40mm with 60mm slopes amidships, 55mm forward and 80-50mm aft with the upper deck 30-25mm over the battery. The torpedo bulkhead ran between end barbettes and was 30-20mm. Fwd CT had 400mm sides and 80mm roof, aft CT had 200mm sides and 50mm roof.
Modernizations
1915, all: - 2 x 1 - 88/45; + 2 x 1 - 88/45 SK L/45 C/13 (AA)

1916-1917, all: - 14 x 1 - 88/45
Naval service
Rheinland ran aground at 15kts on rocks off Lagskär on 11 April 1918 and over 6000t, including belt armour and all guns, had to be removed before she could be got to Kiel; she was never repaired. Westfalen was torpedoed amidships by British submarine E23 on 19 August 1916 and took on 800t of water, but though bulkheads were sagging, she returned to harbour at 14kts.