Photo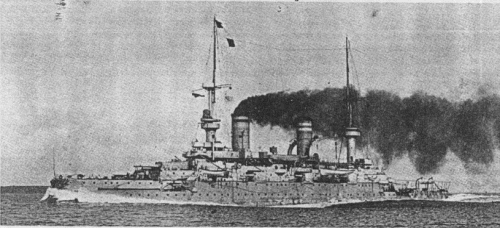 Kaiser Wilhelm der Grosse 1900  
Ships
| Name | No | Yard No | Builder | Laid down | Launched | Comp | Fate |
| --- | --- | --- | --- | --- | --- | --- | --- |
| Kaiser Friedrich III |   | 22 | Wilhelmshaven KW | 1895 | 1.7.1896 | 7.10.1898 | prison ship 1916 |
| Kaiser Wilhelm II |   | 24 | Wilhelmshaven KW | 1896 | 14.9.1897 | 13.2.1900 | floating HQ for C-in-C 1915 |
| Kaiser Wilhelm der Grosse |   | 79 | Germaniawerft, Kiel | 1898 | 1.6.1899 | 5.5.1901 | harbour ship 1916 |
| Kaiser Karl der Grosse |   | 136 | Blohm & Voss, Hamburg | 1898 | 18.10.1899 | 4.2.1902 | prison ship 1916 |
| Kaiser Barbarossa |   | 640 | Schichau, Danzig | 1898 | 21.4.1900 | 10.6.1901 | prison ship 1916 |
Technical data
Displacement normal, t

11599

Displacement full, t

11785

Length, m

125.3 oa 120.9 wl

Breadth, m

20.4

Draught, m

8.25

No of shafts

3

Machinery

Kaiser Friedrich III: 3 VTE, 4 Thornycroft + 8 cylindrical boilers

Kaiser Wilhelm II: 3 VTE, 4 Marine + 8 cylindrical boilers

Kaiser Wilhelm der Grosse: 3 VTE, 4 Marine + 6 cylindrical boilers

Kaiser Barbarossa: 3 VTE, 4 Thornycroft + 6 cylindrical boilers

Kaiser Karl der Grosse: 3 VTE, 2 Marine + 2 doubled Marine + 6 cylindrical boilers

Power, h. p.

13000

Max speed, kts

17.5

Fuel, t

coal 1070

Endurance, nm(kts)

3420(10)

Armour, mm

belt: 300 - 100, deck: 65, main turrets: 250, secondary turrets: 150, gunshields: 70, casemates: 150, CT: 250 - 150

Armament

Kaiser Friedrich III, Kaiser Wilhelm II: 2 x 2 - 238/37 SK L/40 C/97, 18 x 1 - 150/37 SK L/40 C/97, 12 x 1 - 88/27 SK L/30 C/89, 12 x 1 - 7.9/80, 6 - 450 TT (1 bow, 2 beam, 1 stern)

Kaiser Wilhelm der Grosse, Kaiser Barbarossa, Kaiser Karl der Grosse: 2 x 2 - 238/37 SK L/40 C/98, 18 x 1 - 150/37 SK L/40 C/97, 12 x 1 - 88/27 SK L/30 C/89, 12 x 1 - 7.9/80, 6 - 450 TT (1 bow, 2 beam, 1 stern)

Complement

651
Standard scale images

Kaiser Friedrich III 1903
Graphics
Project history
This class of ships, all named after German Emperors, set the pattern for German pre-dreadnoughts with their comparatively light main armament, and their triple-screw installation. With these ships Germany was becoming a major naval power, but the design still compares unfavourably with that of British contemporaries. The secondary armament was heavy, with six of the forecastle deck guns being mounted in turrets instead of casemates.
Ship protection
Main belt had 300mm thickness between barbettes, tapering to 180mm at lower edge. Its thickness decreased to 150mm from fore barbette to stem (tapering to 100mm at lower edge), 200mm abreast aft barbette (tapering to 100mm at lower edge). After end of the waterline was unprotected. The belt had 250mm teak backing. Protective deck had 65mm thickness. Main gun turrets had 250mm sides and 50mm crowns, secondary turrets had 150mm sides, casemates had also 150mm protection, gunshields for 88mm guns had 70mm thickness. Main CT had 250mm sides and 30mm roof, aft CT had 150mm sides and 30mm roof.
Modernizations
1909, Kaiser Friedrich III; 1910, Kaiser Wilhelm II, Kaiser Wilhelm der Grosse, Kaiser Barbarossa: - 4 x 1 - 150/37, 12 x 1 - 7.9/80, 1 - 450 TT (stern); + 2 x 1 - 88/27 SK L/30 C/89 (Kaiser Karl der Grosse never was rebuilt).
Naval service
Between 1907 and 1910 these ships were reconstructed, with taller funnels, much of the superstructure cut down, and four of the 150mm guns and one of the torpedo tubes removed. The tertiary armament of 88mm guns was repositioned, several being placed on the upper deck, from which the 150mm had been taken, instead of their original much higher position, while their number was increased by two. Kaiser Wilhelm II, with a complement increased by 63, had been the fleet flagship until 1906. All were disarmed and used as hulks in 1916, being quite useless for war by that time.