Photo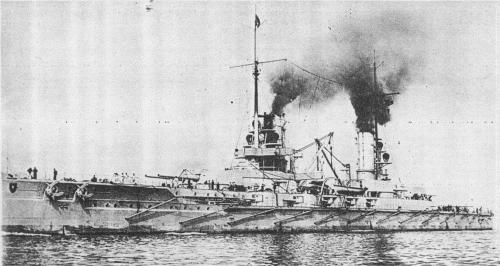 Kaiser 1912  
Ships
| Name | No | Yard No | Builder | Laid down | Launched | Comp | Fate |
| --- | --- | --- | --- | --- | --- | --- | --- |
| Kaiser |   | 35 | Kiel KW | 12/1909 | 22.3.1911 | 1.8.1912 | interned 11.1918, scuttled 21.6.1919 |
| Friedrich der Grosse |   | 310 | Vulcan, Hamburg | 26.1.1910 | 10.6.1911 | 15.10.1912 | interned 11.1918, scuttled 21.6.1919 |
| Kaiserin |   | 530 | Howaldtswerke, Kiel | 11/1910 | 11.11.1911 | 14.5.1913 | interned 11.1918, scuttled 21.6.1919 |
| König Albert |   | 857 | Schichau, Danzig | 17.7.1910 | 27.4.1912 | 31.7.1913 | interned 11.1918, scuttled 21.6.1919 |
| Prinzregent Luitpold |   | 167 | Germaniawerft, Kiel | 1/1911 | 17.2.1912 | 19.8.1913 | interned 11.1918, scuttled 21.6.1919 |
Technical data
Displacement normal, t

24724

Displacement full, t

27000

Length, m

172.4 oa 171.8 wl

Breadth, m

29.0

Draught, m

8.80 mean 9.10 deep load

No of shafts

3

Prinzregent Luitpold: 2 (3 as designed)

Machinery

Kaiser, Kaiserin: 3 Parsons steam turbines, 16 Marine boilers

Friedrich der Grosse: 3 AEG-Curtis steam turbines, 16 Marine boilers

Prinzregent Luitpold: 2 Parsons steam turbines, 1 Germania diesel (never installed), 14 Marine boilers

König Albert: 3 Schichau steam turbines, 16 Marine boilers

Power, h. p.

31000

Prinzregent Luitpold: 26000 (+12000 diesel)

Max speed, kts

21

Prinzregent Luitpold: 20 (22 designed)

Fuel, t

coal 3600

Prinzregent Luitpold: coal 3200 + diesel oil 400

Endurance, nm(kts)

7900(12)

Prinzregent Luitpold: (7200(12) as designed)

Armour, mm

belt: 350 - 80, bulkheads: 300 - 130, deck: 100 - 60, main turrets: 300 - 80, barbettes: 300 - 80, casemates: 170, CT: 400 - 200

Armament

5 x 2 - 305/47 SK L/50 C/08, 14 x 1 - 149/42 SK L/45 C/09, 8 x 1 - 88/45 SK L/45 C/13, 4 x 1 - 88/45 FlaK L/45 C/13, 5 - 500 TT (1 bow, 4 beam)

Complement

1084
Standard scale images

Kaiser 1914
Graphics
Project history
This class marked a break with previous dreadnoughts. The first two were built under the 1909-10 programme and the others under that of 1910-11. There was a forecastle deck extending to past the mainmast and the boiler rooms and funnels were widely spaced. Freeboard at normal load was about 7.0m forward and 4.0m, with GM 2.59mt. The arrangement of the main turrets was altered to one forward, two echelonned amidships and two super-firing aft. A 10-gun broadside was practicable as the midships turrets had arcs of 120° on the opposite beam. The mountings were Drh LC/09, generally similar to C/08, and with 13.5° elevation, later increased to 16°. Magazines in all were below shell rooms. The 15cm guns were in an upper deck battery. TT were arranged as previously except that there was no stern tube. There were 10 boiler rooms and 3 sets of turbines in 6 engine rooms - except in Prinzregent Luitpold which had 2 sets in 4 - and boiler pressure and tar oil were as in Helgoland. Turbines and boilers were noted for giving trouble in Kaiserin. On the mile Kaiser was forced to 55,187shp = 23.4kts, while the other 3-shaft ships made 39,813shp-42,181shp -22.1kts-22.4kts, and Prinzeregent Luitpold without her diesel 38,751shp = 21.7kts.
Ship protection
The side armour was much improved, the belt between end barbettes being 350mm from the main deck 1.8-1.8m above lwl to 350mm below lwl, and tapering to 180mm at 1.7m below lwl, with 200mm between main and upper decks. Forward there was 180-80mm and aft 180-125mm with 150-80mm forward and 150mm aft in Kaiserin and Prinzregent Luitpold. Barbettes were 300-220mm reduced to 140mm behind the battery and upper belt armour and to 80mm behind the main belt, while the turrets had 300mm faces, 250mm sides, 290mm rears and 110-80mm roofs. Casemates had 170mm sides and were closed by 80mm bulkheads. The armour deck was 30mm amidships, 60mm forward and 1120-60mm aft while between end barbettes the upper deck was 30-25mm outside the battery and the forecastle deck 30mm over the latter. The torpedo bulkhead was 40mm with 50mm in Kaiserin and Prinzregent Luitpold, and in all was continued as a 30mm splinter bulkhead to the upper deck. Fwd CT had 400mm sides and 150mm roof, aft CT had 200mm sides and 50mm roof.
Modernizations
1916-1917, all: - 10 x 1 - 88/45 (only 2 AA guns remained).
Naval service
None of the class was seriously damaged in 1914-18. They were raised for scrap at Scapa between 1929 and 1937.