Photo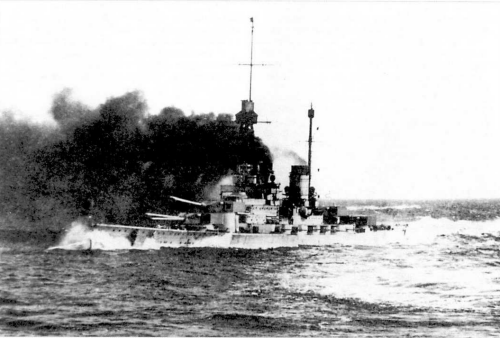 Hindenburg 1918  
Ships
| Name | No | Yard No | Builder | Laid down | Launched | Comp | Fate |
| --- | --- | --- | --- | --- | --- | --- | --- |
| Hindenburg |   | 34 | Wilhelmshaven KW | 30.6.1913 | 1.8.1915 | 10.5.1917 | interned 11.1918, scuttled 21.6.1919 |
Technical data
| | |
| --- | --- |
| Displacement normal, t | 26947 |
| Displacement full, t | 31500 |
| Length, m | 212.8 oa 212.5 wl |
| Breadth, m | 29.0 |
| Draught, m | 9.29 mean 9.57 deep load |
| No of shafts | 4 |
| Machinery | 4 Marine steam turbines, 18 Marine doubled boilers |
| Power, h. p. | 72000 |
| Max speed, kts | 27 |
| Fuel, t | coal 3700 + oil 1200 |
| Endurance, nm(kts) | 6100(14) |
| Armour, mm | belt: 300 - 100, bulkheads: 250 - 100, deck: 80, turrets: 270 - 80, barbettes: 260 - 30, casemates: 150, CT: 350 - 80, torpedo bulkhead: 45 |
| Armament | 4 x 2 - 305/47 SK L/50 C/08, 14 x 1 - 149/42 SK L/45 C/09, 4 x 1 - 88/45 FlaK L/45 C/13, 4 - 600 TT (1 bow, 2 beam, 1 stern) |
| Complement | 1182 |
Standard scale images
Hindenburg 1918
Graphics
Project history
This ship, built under the 1913-14 programme, was generally similar to the previous class and only the differences are noted. The additional length was mainly due to finer stern lines and a tripod foremast was fitted before completion. She could be distinguished from Derfflinger by having shallower funnel caps and the tripod legs less spread.

The armament was arranged as in the previous class but the 30.5cm mountings were Drh LC/13 allowing 16° elevation and the 3m turret rangefinders were replaced by 7.8m. In all 4 turrets the magazines were above the shell rooms and the shell hoists were not broken at the working chamber though the cartridge hoists were. It was possible to load the forward and aft supeifiring turret shell hoists from depot rooms on the upper main and main (armour) decks respectively.

The boiler rooms were rearranged with the 4 oil-fired boilers in two groups, one forward and the other separated by 4 coal-fired rooms. The Hindenburg was commissioned for trials on 10 May 1917 and attained 95,777shp = 26.6kts at 9m on the Belt mile, equivalent to 28.5kts at normal displacement in deep water.
Ship protection
The main belt ran from the fore barbette to a little past the after one, and was 300mm from 1.4m above to 0.4m below lwl tapering to 150mm at the lower edge 1.7m below lwl and to 220mm at the upper deck. Forward there was 120mm (to 16.5m from the bows, later to the stem there was 30mm plating) and 100mm aft (to 7.3m from the stern). The barbettes were 260mm with the two superfiring ones reduced to 100mm behind the battery armour and all to 60mm behind the main belt with the two forward ones further reduced to 30mm below the upper main deck. The turrets had 270mm faces and rears, 220mm sides and 150-80mm roofs. The armour deck was 30mm amidships, 50mm forward and 80-50mm aft, and the upper deck 30-20mm outside the battery which had a 50-25mm roof. The torpedo bulkhead ran for the length of the main belt and was 45mm, continuing to the upper deck as a 30mm splinter bulkhead.
Modernizations
None.
Naval service
She was raised at Scapa for scrap on 22 July 1930 and was still of sufficient interest to be examined in some detail by the Royal Corps of Naval Constructors.