Photo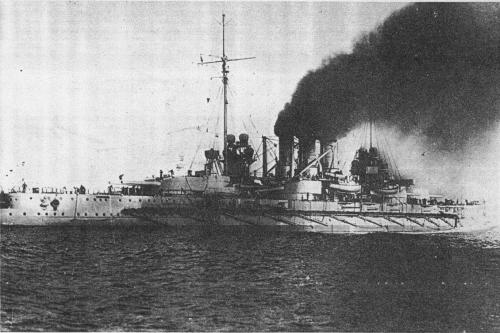 Helgoland 1914  
Ships
| Name | No | Yard No | Builder | Laid down | Launched | Comp | Fate |
| --- | --- | --- | --- | --- | --- | --- | --- |
| Helgoland |   | 500 | Howaldtswerke, Kiel | 24.12.1908 | 25.9.1909 | 23.8.1911 | discarded 11.1919 |
| Ostfriesland |   | 31 | Wilhelmshaven KW | 19.10.1908 | 30.9.1909 | 1.8.1911 | discarded 11.1919 |
| Thüringen |   | 166 | Weser, Bremen | 7.11.1908 | 27.11.1909 | 10.9.1911 | discarded 11.1919 |
| Oldenburg |   | 828 | Schichau, Danzig | 1.3.1909 | 30.6.1910 | 1.5.1912 | discarded 11.1919 |
Technical data
| | |
| --- | --- |
| Displacement normal, t | 22808 |
| Displacement full, t | 24700 |
| Length, m | 167.2 oa 166.5 wl |
| Breadth, m | 28.5 |
| Draught, m | 8.68 mean 8.94 deep load |
| No of shafts | 3 |
| Machinery | 3 VTE, 15 Marine boilers |
| Power, h. p. | 28000 |
| Max speed, kts | 20.5 |
| Fuel, t | coal 3200 |
| Endurance, nm(kts) | 5500(10) |
| Armour, mm | belt: 300 - 100, bulkheads: 210 - 90, deck: 80 - 55, main turrets: 300 - 100, barbettes: 300 - 60, casemates: 170, CT: 400 - 200 |
| Armament | 6 x 2 - 305/47 SK L/50 C/08, 14 x 1 - 149/42 SK L/45 C/09, 14 x 1 - 88/45 SK L/45 C/13, 6 - 500 TT (1 bow, 4 beam, 1 stern) |
| Complement | 1113 |
Standard scale images

Ostfriesland 1914
Graphics
Project history
This class, built under the 1908-09 programme (except for Oldenburg under that of 1909-10), were a considerable improvement on the Nassau. They were easily distinguished by the three funnels arranged close together, and were flush-decked with freeboard at normal load similar to me previous class; GM was 2.60m. The turrets were arranged as in Nassau with the guns in long trunk Drh LC/1908 mountings with 13.5° elevation, increased later to 16°. Magazines were below shell rooms in ail turrets. The 15cm battery was on the main deck. There were 9 boiler and 3 engine rooms; boiler pressure was 16.5kgf/cm2 and c200 tons tar oil was later carried for spraying on the coal. On the mile 20.8kts-21.3kts was attained with 31,258ihp-35,500ihp, Oldenburg being the fastest.
Ship protection
The armour belt was 300mm between end barbettes for 0.9m above and 0.4m below lwl, tapering to 170mm at the lower edge 1.6m below lwl and to 170mm at the main deck but to 250mm in way of the wing barbettes. Forward there was 120mm and aft 120-100mm. The barbettes varied with exposure from 300mm to 200mm, the centreline ones being reduced to 120-80mm behind side armour while the wing barbettes were 100-65mm behind the battery armour and below this protected only by the 250mm side. There was 30mm longitudinal torpedo bulkhead. Turrets had 300mm faces, 250mm sides, 290mm rears and 100-70mm roofs. The armour deck was 45mm with 65mm slopes amidships, 55mm forward and 80-55mm aft while the upper deck over the battery and the main deck amidships outside the battery, were 45-25mm. The torpedo bulkhead was 4.3m inboard amidships and 30-25mm thick. Fwd CT had 400mm sides and 100mm roof, aft CT had 200mm sides and 50mm roof.
Modernizations
1914, all: - 2 x 1 - 88/45; + 2 x 1 - 88/45 SK L/45 C/13 (AA)

1916-1917, all: - 12 x 1 - 88/45
Naval service
The only serious war damage was to Ostfriesland on 1 June 1916 when she struck a mine below the starboard forward wing turret on 1 June 1916. She was able to steam at 15kts, reduced to 10 after the damage had been increased by a sharp turn in avoiding an imaginary submarine.